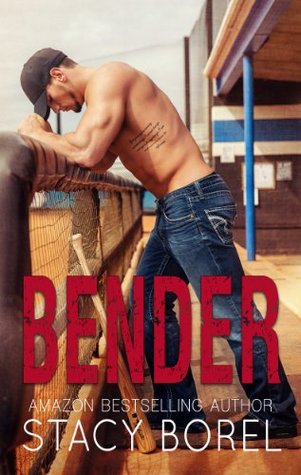 Bender

by Stacy Borel
on April 21, 2014
Pages: 315
Buy on Amazon
Goodreads


All Keegan wanted was a roommate who was quiet, minded their own business, and paid for part of the rent. Instead, she got Camden Brooks. 

Camden, with his sinful body, sharp tongue, and the inability to stay out of Keegan's personal space, couldn't seem to curb his interest in the new girl who wouldn't put up with his domineering ways. 

Feelings were running rampant, sexual tension was thick, and both were struggling to let go of control. 

To some people, getting a roommate simply meant living with another person. But to both Camden and Keegan it was a curveball that neither was prepared to swing at. 

**Strong sexual content** 
Can be read as a stand alone. Each brother will have their own book. (A 96,000 word novel)

Bender tells the story of Keegan a young woman who when we meet her is seeking a roommate and Camden, the man who becomes her roommate.  Ms. Borel pulled me right into this story, I wanted to know more about Keegan and I was so intrigued by the at first stand-offish Camden.
As the book unfolded, I fell in love with Camden as I so wanted to continue to live in this world created by Ms. Borel. When Cam finally gives into his feeling for Keegan, the heat and chemistry are off the charts! I love Cam taking her "at work" no I won't tell you what the scene is but I will say wholly hot and hats off to the small business owner for allowing himself some fun time!
Camden brings with him a family to adore and yes I did adore the Brooks family, Camden and his brothers took up residence in my heart. The banter Ms. Borel created between the 4 brothers was really well done as she managed to give each their own personality and place in the family. Speaking of family, Donna and Paul, their parents, were wonderful characters and tying this family together with a love of baseball was so well done, not only using it for the boys names (I love their names as a play on baseball stadiums) but layering it throughout the book.
The space that Keegan and Cam create for each other in their lives truly works for the characters crafted; the use of Keegan's younger added the story and created moments that had me loving Cam even more.
The happy Keegan and Camden find brought a smile to my face and the end made me want more of this family! This is new must click family saga for me!
I am very much looking forward to watching Ms. Borel grow as an author and to reading Turner, Dodger and Wrigley's books! P.S. I hope Bree gets one too!