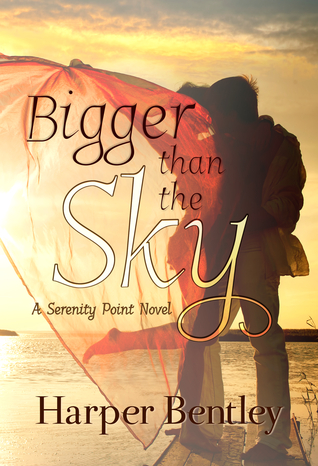 Bigger Than the Sky

by Harper Bentley
on September 30, 2014
Pages: 258
Buy on Amazon
Goodreads


Five years ago, I left my fiancé, hotter than hot Navy SEAL Kade Kelly, at the altar.

No, I'm not an idiot.

Yes, I had my reasons.

Now I've made a new life for myself working at a large firm in Richmond and I've left the past behind. Or so I thought.

Upon returning to my hometown of Serenity Point, Virginia, to take care of some business, I find that Kade's now home for good and he's none too happy about my being here.

Two months. That's all I'm staying then I'm out of here. Unless I believe the town's pink-haired psychic's prediction. Or embrace the sense of belonging I feel at being back home. Or give in to the emotions stirring inside when Kade's attention is suddenly on me.

He scares the crap out of me.

He thrills me.

He used to tell me our love was bigger than the sky.

I always knew ours was a once-in-a-lifetime love. So how can he be so sure it can happen again?
I LOVED this book!! As I write this review, I am still thinking about the story, the characters and this town which I truly hope will develop into a series of books.
Thank you Ms. Bentley for pulling me out of a book funk with Bigger than the Sky.
I sometimes struggle with second chance romances but for me this one was so well done.
As the blurb says, Amelia leaves Kade on their wedding day. The author truly had me understanding why in this case love may not be enough in that moment.
Amelia returns to Serenity Point to deal with some family business (nope not telling you what) and yes 5 years later that puts her square in Kade's path, though Kade's orbit might be a better word because the pull these two have towards each other is tangible.
I adored Kade; this Navy Seal is clear what he wants and he wants Amelia. His kind heart and love of family had me loving this book!!
Kade is fiercely protective of his own and although this leads to a few misunderstandings it all just made me adore him even more. ( I hope this series continues long enough that we get to see Kade as a Daddy.)
Speaking of family, I loved the whole Kelly clan. His parents and siblings with their strong bonds and family ranch had me hoping Amelia would find her way home.
In the end, Kade and Amelia do open up about their past together and what it truly means to share a life together.
Though there are a few obstacles along the way and people who don't want Amelia and Kade together, watching these two come to trust each other again made my heart happy.
The epilogue for me was so well done and had me smiling from ear to ear!
I so hope we get Brody's story next because uggh my heart hurts for Kade's younger brother who so needs his happy. Oh and Mike after that because yes I fell in love with this cast.