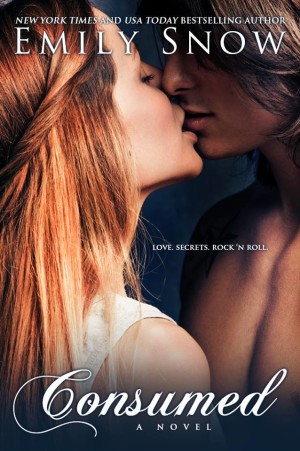 Enter for a chance to win a Kindle E-Book copy of the entire series including ALL OVER YOU, DEVOURED, ABSORBED and CONSUMED using Rafflecopter below.  GOOD LUCK!
Who's ready for more LUCAS WOLFE?!
---

Now that Lucas is back in her life, Sienna is sure the drama between them is over. But then he comes to her with a new offer: his band, Your Toxic Sequel, is going on tour and he wants her with him—working in wardrobe and as his girl.
Life on the road is a complete 180 from everything Sienna has ever known. Not only does she have to deal with Lucas's band members, but she's also forced to be around Cilla, the lead singer of Wicked Lambs. Still, despite horny band mates and a gorgeous rock goddess determined to sink her talons into Lucas, Sienna stays by his side.
Then the letters start to come—harassing messages from Lucas's ex-wife, Sam.
At first, Sienna brushes them off, keeping Lucas in the dark because Sam is bad for his music. But after Sam's contact turns personal and violent, Sienna has no other choice but to confront Lucas. If she's ever going to understand the twisted pull Sam has on him, she has to know his secret. But when he finally reveals it, will they be able to survive the consequences? Or will it tear them apart, consuming them?
This book was well worth the wait!  I have loved Lucas Wolfe since Devoured and reading this book and finally seeing how it ends is bittersweet for me.  I LOVE how far Lucas and Sienna have come since book 1 but selfishly I don't want to see this series end – Emily Snow has created a wonderful cast of characters that you love, can't get enough of and continuously want to learn more about.
Consumed picks up where Devoured left off and Lucas is at Sienna's door hoping to win her back.  I will admit that I had such anxiety going into this book wondering if they could make it work, what the secrets were that Lucas was hiding and how this book would end.  Well I have to say hats off to Emily Snow for giving us the perfect ending for a couple who have had a lot of bumps in their journey but still managed to find true love in the end.  I can't think of a more deserving couple after everything they have been through together.
Without revealing anything of the story as I believe that as a TRUE Lucas Wolfe fan that you MUST read this book yourself – secrets are revealed combined with some other surprises that kept me up through the night and had me at the edge of my seat throughout.
Lucas is as dominating and bossy as ever but this time around Sienna shows strength and we see them more as equals and more in love than ever. For the first time, Lucas sees the importance of his love for Sienna and puts her needs first.  I am proud of the man he has become.
Emily Snow sure knows how to write sex – simply put – it was FREAKIN HOT AS HELL!
The epilogue put a HUGE smile on my face and filled my heart with warmth and love.  I may have even shed a tear or two because I was SO HAPPY! 🙂
I know that this is the last book in the series but I am really hoping for more as I can't get enough of them. The secondary characters are as interesting as ever and I will definitely continue to read more of what Emily Snow writes….she evokes such emotions in you, the writing is exquisite – she is truly a talented writer and I can't say enough good things.  It was just WOW!
Job well done! It was soooo worth the wait! <3

Emily Snow is the New York Times and USA Today bestselling author of the erotic romance series Devoured, which includes Devoured, All Over You, and Consumed, as well as the new adult novel Tidal. She loves books, sexy bad boys, and really loud rock music, so naturally, she writes stories about all three.
---
Series Reading Order
Book .5 – All Over You

Book 1 – Devoured

Book 1.5 – Absorbed

Spin Off – Savor You (Kylie Wolfe's Story)