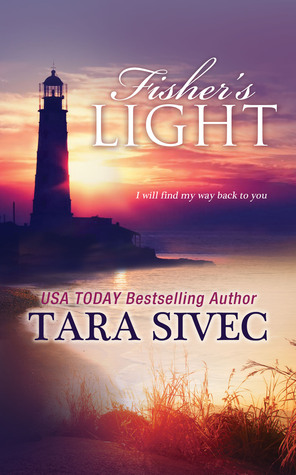 Fisher's Light

by Tara Sivec
on March 24, 2015
Buy on Amazon
Goodreads


Fisher,
I guess this is it, huh? After fourteen years together, starting a life of our own on this island, five deployments and countless letters I've written you through it all, I finally go out to the mailbox and see something I've always dreamed of: an envelope with your handwriting on it. For one moment, I actually thought you'd changed your mind, that all the awful things you said to me were just your way of coping after everything you'd been through. I was still here, Fisher. I was still here, holding my breath, waiting for you to come back even though you told me you never would. You always said you'd find your way back to me. Out of all the lies you've told me, this one hurts the most.

Enclosed you will find the signed divorce papers, as requested.
I hope you find what you're looking for. I'm sorry it wasn't me.
Lucy

To get the ending they want, Lucy and Fisher will have to go back to the beginning. Through the good and the bad, they'll be reminded of why they always made their way back to each other, and why this time, one way or another, it will be the last time.
Christine: People who know me know I completely LOVE second chance love stories. And I absolutely love Tara Sivec's work. Combined together, she has given us her BEST WORK YET. Emotional, heart wrenching and simply breathtakingly beautiful, Fisher's Light is raw and real – a book about love and war and more importantly forgiveness and how some people are lucky enough to get that second chance at love.
Denise: Fisher's Light is a powerful and moving portrayal of PTSD. Ms. Sivec paints a vivid and heartbreaking picture of the effect of mental illness not just on the person who suffers but on those around them. There were times in this book my heart broke for Fisher, times my heart broke for Lucy but most of the time, I was just gripping my kindle praying that they would find a way to heal and that Fisher would find a way through the darkness.
Christine: Fisher's Light will captivate the reader from page 1. The pain is not only that of Fisher and Lucy and the secondary characters within the story but Tara is able to capture the reader, making us experience that same pain; the reoccurring nightmares that are hurtful to them that ultimately become our pain too. It's lonely and sad and gave me the chills. Can love survive such hardships and such cruelty? I prayed that for these two that it could…
Denise: This line so stuck with me as I think it speaks volumes to what soldiers go through:
"War changes everyone, son, there's no shame in that, if it doesn't change you, you were already too f*cked up to begin with."
I will also add a note here; did you know that in the US we lose 22 Vets a day to suicide? That's more than we lose in combat. So these stories need to be told fictional or real life because people need to understand how devastating PTSD is to our communities.
Denise: I am not revealing anything you won't learn from the blurb but after fourteen years together and five military deployments Fisher and Lucy are divorced.
Christine: Not only do I enjoy the dual pov but I LOVED the added bonus of the journals to tell Fisher's journey – it was a well rounded look into his character and persona, his thoughts and his love for Lucy.
Denise: Ms Sivec masterfully weaves the past and present together as she allows the reader to experience these two falling in love and then has the reader witness the spiral of PTSD that rips them apart.
Christine: Reading these entries and seeing how Fisher falls is devastating.
Denise: Oh and the coming back together, I think for me that was the most soul touching part; the reconnecting of the past to the present day and what finally got me was these two learning how important communicating was. Witnessing Lucy and Fisher finally bare their secrets to each other for me was the point in the book when I think I fully took a deep breath and knew those two would be together forever.
Christine: I SO agree Denise. Watching how it all came together, how some people are lucky to find their forever at such a young age, how even despite tough times that they could find their way back to one another was magical. This book for me was so intense, so heartfelt yet at times funny with the use of Tripp and even Stanford and all of Fisher's jealousy towards Lucy's new boyfriend lol…I couldn't help but smile and see that despite the tough times that there were moments of happiness to be found like the sun shining through on a cloudy day…I could FEEL the hope.
Denise: I also adored the use of Fisher' grandfather "Tripp" in this story; he was funny, and kind and so knew what these two needed.
Denise: There was times in this story, I was so engrossed that I so wanted to know what came next that I found myself forcing myself to read slower so I could absorb everything this beautiful story had to tell. This is the kind of book that if you have to put it down to live your life, you will find your brain wandering back to the book; it is that engaging and all encompassing. This is truly the kind of book that you wish you could spend the day engrossed it.
Christine: Denise, I couldn't put down Fisher's Light and DEVOURED it. I read until the wee hours of the morning because it was so beautiful that I didn't want to stop.
Denise: The epilogue of this book was an epic conclusion that tied so many of the elements of the book together. It left me with a smile that was ear to ear and heart that was full of love.
Christine: I so agree! This was a full circle journey for these characters, a true work of art. Something so wonderful that I wished it wasn't a standalone because I honestly wanted MORE.
Denise: Due to our blog schedule, it is not often we have the chance to read and review the same book. I have wanted to read Ms. Sivec for some time and I am so glad I was able to make time to read this one! This was my first Tara Sivec book but it wont be my last! Ms. Sivec did true justice for those who suffer from PTSD with this story. This poignant look at PTSD, one that will likely pierce your heart as it did mine, is the kind of story that will stick with you for long after you close your kindle.
Christine: As I said before, Tara has written comedy, suspense, drama and romance. THIS is her best work to date. I am a HUGE fan and will read anything and everything she writes. Tara, you know you have touched my heart and soul with this story and this is something I will never ever forget. It will definitely be on my favorite list of 2015. All I can say is READ IT – it is SO worth it! 5 Beautifully Emotional Teary Eyed Stars