Happy Release Day to S. Walden and Good!!!!
Enjoy a dual review from Kim and Christine below!
Enter for a chance to win an ebook of Good using Rafflecopter below.  THREE winners will be chosen!  Good luck!
Good is only $.99 and is a steal at this price!  Pick it up today!!!
---
5 STARS!!!
Synopsis
Cadence Miller is a good girl. She just happens to make one terrible mistake her junior year in high school which costs her ten months in juvenile detention. Now a senior, she's lost everything: her best friend, the trust of her parents, driving privileges, Internet access. It's a lonely existence.
But there is one bright spot: Mark Connelly, her very cute, very off-limits 28-year-old calculus teacher. She falls hard for him—a ridiculous schoolgirl crush headed nowhere. She can't help it. He's the only good thing at Crestview High. She doesn't expect him to reciprocate her feelings. How inappropriate, right? But he does. And he shows her.
And that's when her life goes from bad to good.
(New Adult romance)
Kim's Review
I received an ARC of Good in exchange for an honest opinion and I can HONESTLY say that I LOVED this book! OMG! The emotions that this book pulled from me had me …..
and when I figured out I couldn't put it down I was…
Cadence committed one mistake her junior year of high school ~ THE MISTAKE ~ and believe me she is paying for that same mistake on all fronts to the point where I wanted to…
people and then something's she went through just had me…
it was heart wrenching. Cadence saving grace comes in the form of her math teacher ~ Mark who is ten year her senior. He is compassionate and cares about her even going out of his way to make sure she is okay but underneath that you can feel something going on just something and that had Cadence confused and me, being older well I was…
see is she infatuated with him? or is it more? or Will it be more? That you are going to have to read and find out for yourself. This was a deliciously forbidden romance that sometimes pushes that envelope but for me never that far. I went through the gamut of emotions while reading Good. This is something I've come to expect from S. Walden though cause she can certainly make you FEEL! I had more than my share of ….
Cadence is like an old soul and she's witty and has an air about her that makes her seem older than she actually is. But at times I remembered exactly how old she is. There were plenty times were I was..
at what had transpired, what Cadence been through and at one time what happens with Mark at one point. I read about a young woman struggling with her faith and how she was raised, struggling to feel loved, accepted but ultimately questioning everything she's been taught. An unexpected friend, if you can say that, had me…
at first but as book went along I wondered if perhaps there was more to this friendship then one of convenience. I certainly was…
at time or two and by the end of the book I was…
and I just …
but ultimately I was ….
cause the ending was just awesome for me and yes it left me hanging! I can't wait to see where this series takes us! There were very hot parts in this book not overly so but they were there and they take place with consent. Did I have a Mark when I was in High School? Hell no I was shortchanged ~ but then again as a mother of a high school senior I'm certainly happy she doesn't have one either.
Another BRILLIANT book from S. Walden! literally couldn't put it down! I had a few great laughs as well as the angsty moments that had me beside myself! This book challenged my beliefs ~ is this okay? is this forbidden? is this real? Well you definitely need to read this one for yourself to make those decisions. Good worked for me!
A 5 star plus book for me that had my emotions all over the place. I think I smoked half a pack of cigarettes and felt worried 90% of the time and I loved that ~ I'm sadistic I love feeling every emotion the characters do even those that hurt and make me hurt to me that's an indication of a one helluva book and S. Walden has delivered AGAIN!
Christine's Review
Wow!  This is my first Summer Walden book and will DEFINITELY not be my last!  The prologue immediately grabbed my attention and I finished this book in one sitting – it was THAT good!
Without giving away too much of the story, Summer has touched upon a topic that normally I would be totally against, especially given that I am a mother and have a young daughter.  But somehow, I ended up questioning a lot of my thoughts and beliefs and couldn't help but fall in love and root for this couple and be totally "pro" this forbidden romance.
In my opinion, Cadence was very mature for her age and not your typical teenager.  Yes, she definitely had her moments of dramatic immaturity but I liked her.  I liked that she made mistakes, learned from them, challenged herself, questioned her beliefs and upbringing.
Even more than liking Cadence, I LOVED Mark Connelly, her math teacher.  He is not only smart but is generous and caring and likes Cadence for who she is – he recognizes how special she is and wants to take care of her.  He really listens to her and I can't help but admire his patience for her.  A lot of the stolen moments between Cadence and Mark had me smiling…I just couldn't help myself.
So is it right or wrong to have a love affair with someone who is 10 years older than you and your teacher?  I will mention that yes, there is definitely sex but not until she is 18 and legal.  There are moments of heat and intensity and oh the angst!  I couldn't stop reading and my mind kept questioning the rightness of the situation.
But this is what makes a great book – the author takes such a complex situation and really makes you think – is it wrong to follow your feelings and fall in love?  Is this taboo or just a case of fate?  Yes I was uncomfortable in some situations and even at times wanted to cover my eyes but I couldn't stop reading!
You will have to read this book and tell me what you think – I would love to hear your thoughts….I think that Summer has written something that will make people really talk and think and question the difference between right and wrong and following your heart.  I can not wait for book 2 to find out what happens.
Job well done! <3
About the Author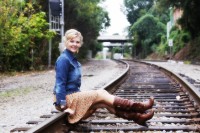 S. Walden used to teach English before making the best decision of her life by becoming a full-time writer. She lives in Georgia with her very supportive husband who prefers physics textbooks over fiction and has a difficult time understanding why her characters must have personality flaws. She is wary of small children, so she has a Westie instead. Her dreams include raising chickens and owning and operating a beachside inn on the Gulf Coast (chickens included). When she's not writing, she's thinking about it.
She loves her fans and loves to hear from them.
---
GIVEAWAY
a Rafflecopter giveaway