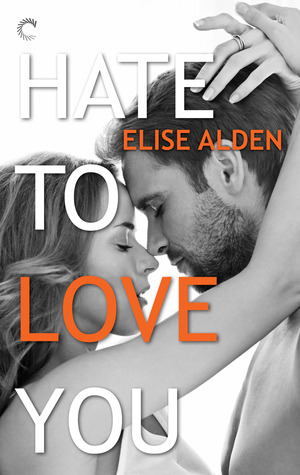 Hate to Love You is the debut novel from author Elise Alden – this is a gem of a find and one you don't want to miss! Enter to win an ebook copy of this book using Rafflecopter below – Good luck!!!
---

Despite my slutty reputation, I was technically a virgin at eighteen. But it turns out all those sex-ed teachers aren't just trying to scare you. The faint positive on a budget pregnancy test sent me spinning, moments before meeting my sister's snooty new fiancé.
Shaking hands with upper-crusty James was like downing a triple shot of vodka. Dizzy with desire, confused by my body's reaction, and shocked by the possessiveness flashing in his eyes, I deceived him that night and told the world at their wedding reception.
The truth?
I slept with my sister's fiancé. Hot and sweaty, all night long in a room so dark he couldn't tell I wasn't her.
The lie?
Said fiancé is the father of my child. The one I signed over my rights to just before he was born.
That was seven years ago.
It's time to come clean.
I love when a book surprises me…I love it even more when its a rare gem among the many books published daily and that its totally addicting from page one. This is how I felt reading Hate to Love You. I read it while on vacation, enjoying a cocktail or two and was so immersed in this story that I was unable to put it down (yes I did read it in about a day and a half and yes I am excited to go back and read it again!). Books like these make me so happy, its the unknown of picking up a new author, having no idea what I am going to get myself into and then coming out excited and wanting to share this story with the masses. Hate to Love You made me feel all these things and more…I wanted to shout it outloud but alas I had no internet access and had to tell my hubby (who is not a book lover lol) how much I adored this book. And yes as soon as I landed home, the first thing I did was email Elise to let her know that this will be a hit. I truly believe that from my heart. It's the books and themes that have never been done before, or maybe in a new way that capture your attention, pull at your heart strings that make you want to sing praises about and Hate to Love You makes me feel just that.
So without giving anything away because I do believe that this is a book that you will have to read for yourself and enjoy fully and completely, the blurb really says it all.
Paisley hates her sister and there is no love lost for her parents and sadly it goes both ways. With Caroline getting married to stick up his butt, James, the undeniable attraction when Paisley and James meet is unexpected yet exhilerating and exciting. *Mine*. Though Paisley is known as the slutty sister, once you get to know her flaws and all, you can understand the wall she built around herself, protecting herself. And though she says whats on her mind, is abrasive and rough around the edges, I like her…I like her a lot. A lot of what makes you who you are is how you are raised, how people treat you and this is the honest truth about Paisley. She is a product of those around her.
Hate to Love You is a well written trainwreck of a story..in a totally good way. And by trainwreck I mean, the 7 years between Paisley's first encounter with James until she meets him again seemlingly all grown up with something to prove, are wasted time and opportunity for two people who were so meant for each other from the start. Deep down inside no one ever saw the good in her until James and to come back to face her past and redeem herself in his eyes is a feat I enjoyed reading.  They will make lots of mistakes, there will be a lot of heartbreaks, lies and misunderstandings.  But Ms. Alden did this so well because I was able to feel these things and experience them with these characters..I was in Paisley's head through it all and I understood where she was coming from and prayed for this couple to find their happy acknowledging that no one is perfect but that in the end they could hopefully be perfect together.
It will be a hard road that these two characters will travel having to build trust and find forgiveness but for me, it was definitely worth the ride. I experienced so many emotions while reading – I cried, my heart was pounding constantly, I smiled and I laughed. I enjoyed every moment that I spent on reading this book.
For a debut novel, Elise Alden hit it on the nail. I will definitely read more from this author and look forward to what she has in store for us next. There aren't many books that I will reread but I want to reread this one…I want to see the things that I may have missed as I consumed this book so rapidly, I want to feel the all consuming and palpable emotions that Elise was able to evoke in me..it was thrilling and complete bliss and when I closed my kindle I had a smile on my face.
This is a beautiful story of second chance love about two people destined for each other…its not your typical love story because the characters are so flawed but it will make you think, feel and truly believe in a love that is so captivating and real….I devoured this book and you will too!

At the age of twelve Elise borrowed Gone With the Wind from her school library and thought she'd be traumatised for life – until she wrote and pasted in a happy ending where Rhett declares his love and sweeps Scarlet into his arms. The librarian was none too pleased, but since the damaged book saved Elise's parents years of therapy fees they were happy to pay for a new school copy. Since then Elise has cried, sighed and revelled in Romance novels. She's drawn to flawed characters with a-typical backgrounds, people for whom love isn't a simple matter of boy meets girl, but a gut-wrenching journey of transformation.
Elise grew up in tropical Panama and spent several years teaching in Brazil, where she met a travelling Scotsman who did what Rhett Butler should have. Well, he dragged her to his mountain lair, but it's the thought that counts! These days, whether she's star gazing atop ruined castles or seeking rare butterflies in the jungles of Central America, Elise is thinking up characters who overcome the odds to be together. After all, if she and her husband could, then her heroes and heroines deserve the chance.
---