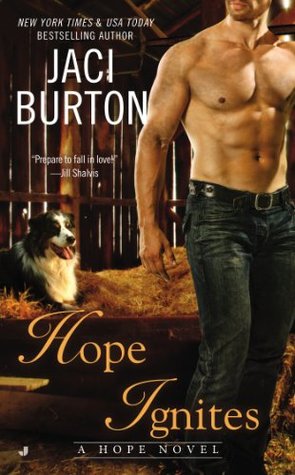 Enter for a chance to win a paperback copy of this book from the publisher using Rafflecopter below. Good luck!
---

Logan McCormack likes his isolated life on the ranch, until a movie crew starts filming there. When actress Desiree Jenkins blows into his life, she wrecks it harder than the Oklahoma winds with her brutal honesty and soft touch. Des knows this is a temporary stay, but she loves the open freedom of the land, and for the first time in her life, Des feels like she might have found a place she can call home, with a man she might be falling in love with. But Logan's heart is tougher than the soil beneath them—can she convince him that they belong together?
I was pulled right into this book and I love when that happens!
Hope Ignites is the story of  Logan McCormack, a ranch owner and brother of Luke, the hero from book 1.
Though I enjoyed Hope Flames, you do not need to read that book to read and love this one; and this is one I loved!
This is my second Jaci Burton book and now I understand why readers adore her work.
The Hope series is a must-click for me as I want to more about the supporting cast in this book and I want to see more of Luke and Logan as they live out their happy's.
Ok back to this book, Logan is renting a part of his huge ranch out to a movie crew, a movie whose star is Desiree Jenkins.
The connection between Des and Logan is clear from the moment they first meet. I loved the chemistry between these two both; it was strong and commanding and both had me wanting to keep reading to find out more.
Desiree is a tough cookie and takes everything Logan dishes out both verbally and physically; no he is NOT abusive you will see what I mean by physical when you read the book because you should read this book
This book also gave me new characters to love; Colt, Des' onscreen romance and best friend, was a character I loved!!
Yes, he is a gay man and so I hope we get Colt and Tony's story even if it is just a novella!!!
As the book progressed it is clear to the reader the feelings Logan has for Des are very different than anything he has experienced in the past. His fear of those feelings makes so much sense given his backstory, one the reader learned a bit of from Luke in book 1 but it is expanded on and really allows the reader to understand Logan in this one.  Did Logan make me mad yes, did I want to shake him sometimes yes but his actions suit his character YES!
Des and Logan eventually develop an easy comfort around each other; one that felt true and comforting.  But Des is only in Hope for her movie shoot and when her time is up, old demons arise as Logan's feelings are something he is unwilling to embrace….
Will Logan grab the happy that is within his reach or let Des ride off into the sunset?
Well, you have to read the book to find out.
Thank you Ms. Burton for a wonderful story! And I am very much looking forward to book 3, Hope Burns as I so want to know the backstory behind Molly and Carter.

Jaci Burton is a New York Times and USA Today bestselling, award-winning author of over 50 books. She lives in Oklahoma and when she isn't on deadline (which is often), she can usually be found wrestling with her uncooperative garden, wrangling her dogs, watching an unhealthy amount of television, or completely losing track of time reading a great book. She's a total romantic and longs for the happily ever after in every story, which you'll find in all her books.
---


a Rafflecopter giveaway

Series Reading Order
Book .5 – Hope Smolders

Book 1 – Hope Flames

Book 2 – Hope Ignites