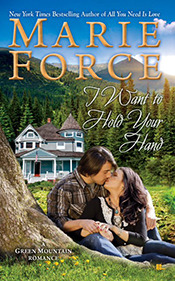 Enter for a chance to win a signed copy of this book using Rafflecopter below. Good luck!
---

For the Abbott siblings, the Green Mountain state has always been an idyllic place to call home. But it isn't until they open themselves up to love that they'll truly discover how fulfilling life can be…
Almost seven years after losing her husband in Iraq, Hannah Abbott Guthrie isn't sure she's ready—or able—to move on, but the attentions of a lifelong friend are making her think about it for the first time. The memory of the sweet kiss she shared with Nolan Roberts hasn't strayed far from her thoughts, but she also fears that pursuing something with him would mean betraying her husband's memory.
Nolan has loved Hannah for years, but he'd been giving her the space she needed to heal from her devastating loss. Now, when an opportunity arises to show her how he feels, Nolan can't resist, but he knows earning her love will take more than a kiss. Somehow he has to prove to Hannah that finding love twice in a lifetime is possible—and well worth risking her heart.
Book 2 in the Green Mountain Series had me falling in love even more with The Abbott family and with Ms. Force's writing.
I Want to hold your Hand is the story of the oldest Abbott daughter, Hannah and the town mechanic, Nolan Roberts.
As the reader learned in book 1, Hannah Abbott Guthrie is a widow having lost her husband and childhood sweetheart, Caleb Guthrie in Iraq.  Hannah has been a widow for many years and the reader is able to feel that she is just existing not truly loving someone many around her want her to do; including Caleb's parents (which I loved).
First I love Nolan, l adored him  and found myself wishing every man would be such a kind and generous soul. Nolan loves Hannah for Hannah, he understand she comes with a past and has no desire to change or temper that. He respects her love for her deceased husband and pushed Hannah to speak freely about him. Makes we wish everyone could understand how griefs effects loved ones.
Snippets from Hannah's past are masterfully woven into the story. You get to re-live her happy and her pain and get to know Caleb, her deceased husband, along with gaining a true understanding of their relationship prior to his death.
Hannah's connection to Caleb runs deep, the home she still lives in; the dog she loves, it all keeps Caleb in her orbit.  Ok I have to say the use of the dog is heart pulling, and endearing and in the end really pulled the story together and made Hannah's depth of emotion tangible on so many levels.
Caleb's voice towards the end moved me, the use of his mother and a final connection brought this story to a place that warmed my soul and reminded me that true love is about wanting the other person to smile, to enjoy life and to move forward regardless of what life puts in your path.
I was overwhelmed by the emotions in this one, and how Ms. Force truly crafted different reactions for each character to losing someone so close to them.  Losing Caleb for his close knit group is about more than Hannah losing her husband, the healing that comes from her stepping forward is not about anyone forgetting Caleb but becomes about honoring his spirit and his true love for life.
In the end, Nolan is Hannah's forever; Nolan proves that to Hannah and to the reader. I so loved this book and I think family saga readers are going to continue to love the Abbott family.
Book 2 also allows the reader a glimpse into who the other Abbott sibling may be paring off with and I am truly excited for the rest of the Abbott siblings to have their story told, this is a must click series for me.
I can't wait to read I Saw Her Standing There (Green Mountain #3), Colton Abbott and Lucy Mulvaney's (Cam's friend from book 1) story!

Marie Force is the New York Times, USA Today and Wall Street Journal bestselling, award-winning author of more than 25 contemporary romances, including the McCarthys of Gansett Island Series, the Fatal Series, the Treading Water Series and numerous stand-alone books. All You Need is Love, book 1 in her new Green Mountain Series from Berkley Publishing, is out on Feb. 4, 2014. While her husband was in the Navy, Marie lived in Spain, Maryland and Florida, and she is now settled in her home state of Rhode Island. She is the mother of two teenagers and two feisty dogs, Brandy and Louie. Join Marie's mailing list at http://marieforce.com/ for news about new books and other possible appearances in your area.
---
Series Reading Order
Book 1 – All You Need is Love

Book 2 – I Want to Hold Your Hand