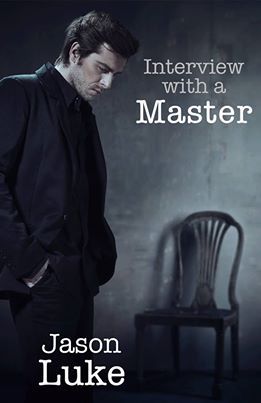 Enter for a chance to win 3 ebook copies of this book using Rafflecopter below.  GOOD LUCK!
---

It's the interview like no other.
It's the interview of a lifetime.
It's THE Interview with a Master.
When Jonah Noble reveals details of his life within the world of BDSM, the tale he tells is intensely erotic, profoundly sensual, and brutally honest.
This is His world. His way.
There is only one question the man will not answer…
(BDSM erotica from a man's POV, written by a man. Contains some explicit language)

Denise's 4 STAR Review!!!
I want to say this review is going to be on the shorter side and vague on purpose as I want the reader to experience this journey as I did; the experience of Master Jonah detailing his personal path, his reasons behind who he has become and how has chosen to live his life.
I will warn the reader this is not a romance novel, again this is not a romance novel. And no I won't tell you what it is because I am not sure there are words other than to say it is an Interview with Master Jonah just as the book title says.
Jonah Noble will likely pull you in very quickly as he takes a young journalist back into his past, re-telling the how he had become the man who sits before her. The walking through of his past is fascinating and compelling on so many levels.  We all are the culmination of our past experiences and how we process them, this book allows the reader to see the past and understand how Jonah processed them, so well done!
Trigg. I will not tell you who this person is….I will say that from the moment this character is seen by the reader you sense they are the key to the story and though that assumption is correct, it is not in the way the reader expects. This aspect truly makes the story one that will sit with the reader for sometime to come!
As you read this book you may wonder as I did, why is such a private man sharing so much about himself with a journalist, a journalist who has been instructed to share this with her readers no hiding behind "this is off the record" also combined with the goal of seducing this young woman. In the end this book worked for me, Mr. Luke's plot twist gives reason to Jonah's actions.
In the end my heart pulled for Jonah, life is not always what you want it to be, sometimes there are no simple answers or quick fixes.  The end of the book felt true to the man portrayed and in the end that is what one wants from an author.
My reviews often say "it's not what life gives you it's what you do with it".  The last few paragraphs of the book felt like this to me and that Master Jonah is at that kind of point in his life (and so may Mr. Luke the author).  So I do hope to see more in a book 2, though that book might gut me. NO I will not tell you why….you need to read the book to understand.
Now I will digress and say I truly enjoyed Master Jonah's voice, as he re-tells his life experiences to this young journalist his inability to sometimes find the right words and his frustration at himself for that, felt so true.  I thoroughly enjoyed his lack of filter and his passion for the lifestyle and to relay what is a true bond of trust between a submissive and Master fully vested into BDSM offers the reader a true window into Master Jonah's mind.
If you are open to reading a fascinating look inside one man's mind, a book that is not a romance novel, I highly recommend this unique book.

Jason Luke enjoyed several years involved in the BDSM lifestyle – but he is quick to point out that his experiences don't qualify him as an expert, any more than knowing how to drive a car makes him a qualified mechanic. 'Interview with a Master' is a novel about how one man became a Master. The book is a work of fiction, but Jason has drawn heavily on encounters from his own real life. He won't say which parts of the book are fictionalised, and which parts are auto-biographical.
Erotic BDSM fiction written by a man from a man's point of view.
---