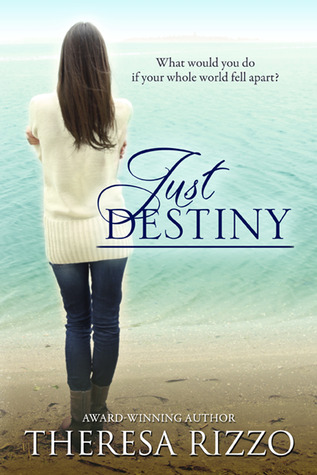 Read an excerpt from the book below and make sure to enter for a chance to win an ebook copy of this book using Rafflecopter below. Good luck!
---

What would you do if your whole world fell apart?
Jenny Harrison made some poor choices in the past, but marrying Gabe was the best thing she'd ever done. They had the perfect marriage, until a tragic accident leaves Gabe brain dead and her world in ruins.
Devastated by grief, she decides to preserve the best of their love by conceiving his child, but Gabe's family is adamantly opposed, even willing to chance exposing long-held family secrets to stop her. Caught in a web of twisted motives and contentious legal issues, Jenny turns to best friend and attorney, Steve Grant. Steve wants to help Jenny, but he has reservations and secrets of his own.
When something so private and simple turns public and complicated, will Jenny relent? What is Steve willing to sacrifice to help Jenny?

Jenny stared at the answering machine she'd been avoiding these past weeks. Nineteen messages had been recorded before the tape filled. She found a yellow legal pad and a pen, and punched the play button. The first two messages were old ones from Michael one reminding her about his soccer game, the other giving her movie times. Then Gabe's deep voice came on the machine.
"Jen? Are you there? I guess not. I'm going to be a little late tonight, but if you want to pack a dinner, we can eat on the boat and still catch the sunset. It'll be cold, so bring a blanket. They're paging me. Gotta go. Love you."
All Jenny's newfound courage evaporated in an instant. She dropped the pen and covered her face with trembling hands. God, it was so good to hear his voice. Although it'd only been a few weeks since the funeral, it seemed an eternity since she'd heard Gabe's voice or cuddled against his warm body.
Hugging a soft pillow to her aching heart, Jenny replayed his message and sat back, savoring the sound of his beloved voice. She pushed the replay button again. And again. And again. She swallowed hard against the tears, frantically wondering how she could save just Gabe's message.
My God, how pathetic am I? Trying to save his message so I can play it over and over again, tormenting myself. Damn you, Gabe. Why'd you leave me? Suddenly furious, she threw the pillow to the floor and stormed into the garage.
She punched the garage door opener to get light and then stalked over to what was left of Gabe's bike. She kicked the tires and handlebar. She jumped on the wheels, trying to balance and hop up and down to break the spokes. When that didn't accomplish enough damage, Jenny grabbed a hammer and beat the mirror and speedometer, over and over again, welcoming the pain vibrating up her arm.
Ignoring flying glass and sharp metal bits, she pounded away until the bike lay in pulverized, shattered pieces. Chest heaving, Jenny turned her fury on the new helmet Gabe had insisted she wear. Tears blinded her as she fell on the silver helmet, hammering away, pocking it like the surface of an old battered golf ball.
"Damn you." Pound. "Why," pound, "didn't," pound, "you," pound, "protect him?" she sobbed through clenched teeth.
Intent on destroying the helmet, Jenny barely noticed the hammer being removed from her grasp. She clutched her heaving stomach and rocked back and forth. Debris littering the cold cement floor dug into her knees. Her breath came in tortured gasps, ripping past her swollen, raw throat.
"Damn you. Damn you. Bring him back. Give him back to me," she wailed.
Strong arms pulled her close, rocking with her, until the anger burned away. Worn out, she leaned into the comforting hold and then stiffened.
"I'd bring him back if I could."
Jenny looked up into Steve's glistening blue eyes. Steve, not Gabe held her. She'd never again know the comfort and security found in her husband's arms. She frowned and twisted out of his embrace.
Just Destiny is a controversial yet emotionally beautiful book.  I have read a prior book by this author and I enjoy the different themes and elements that Theresa incorporates into her books, well thought out scenarios that have you thinking about what is morally right in a situation and what you would do if you were in the character's place.  Just Destiny did not disappoint in this aspect and I was wholly captivated by this story.
Yes from what the blurb states, Jenny and Gabe had it all – a happy marriage, happy life and a love so poignant and real.  Devastation strikes when Gabe is hit by a car and left brain dead.  Jenny, who is younger than Gabe wants to have his child, and has his sperm retrieved when she had Gabe's organs donated.  What ensues from this is a legal fight between Jenny and Gabe's family on what is ethically and morally right as Gabe could not make this decision with his wife to have a family and Jenny's desire to have a part of her husband with her forever in the form of their child.
I didn't know who to side with honestly as I read this story.  While I understood Jenny's grief from losing her husband, I felt that the entire process was so clinical, so lonely.  In my mind, Jenny was so young and though loving her husband so dearly, she would eventually meet and fall in love again, perhaps having a child in her future.  So yes, I could totally understand Jenny's thinking though sometimes I felt that some of her thoughts and decisions weren't entirely truthful and honest (though not evil in any way).
I thoroughly enjoyed Just Destiny.  If you are looking for a suspenseful and fascinating read that will keep you guessing and thinking, where the main heroine will experience a lot of growth and self reflection, and where there is a chance and hope for a new love and bright future, then pick up this book today – you won't regret reading something so realistic, so well written that will really challenge your beliefs of right and wrong and keep you interested throughout….What will really stick with me is the message that sometimes we have to just follow our hearts to find our destiny. <3
Theresa Rizzo is an award-winning author who writes emotional stories that explore the complexity of relationships and families through real-life trials. 

Born and raised in Grosse Pointe, Michigan, she currently lives outside of Boulder, Colorado with her husband of thirty years. She's raised four wonderful children who are now scattered across the country.
Theresa's debut book, He Belongs to Me was a finalist in the General Fiction Category of The 2013 USA Best Book Awards!  Her second book, Just Destiny, will be released March 31, 2014.
Find Theresa on the web at www.theresarizzo.com, or connect with her on Facebook, twitter or Goodreads.
You can also purchase Just Destiny at Barnes, Noble, iBookstore & Smashwords.
---