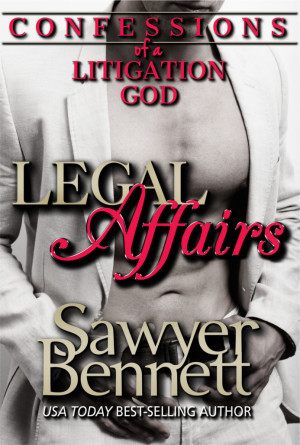 Enter for a chance to win a signed set of the entire OFF Series using Rafflecopter below. Good luck!!
---

WARNING, LIMITATION OF LIABILITY AND ASSUMPTION OF THE RISK from Matt Connover, Litigation God: Please do not attempt to read my story in public, as my sexual proclivities have been known to cause squirming in your seat, squeezing of your legs together and unintentional moaning, sometimes with spontaneous bursts of laughter at random moments. If you are offended by the fact that my oral skills are just as accomplished in the bedroom as they are the courtroom, then this book is not for you. There may be moments while reading my story that you get so turned on… so hot and bothered… that your squirming and moaning could turn maniacal in nature and neither I, nor the author, are responsible for the weird looks you may get. Notwithstanding the aforementioned warnings, if you assume the risk and read my tale in public, then I recommend you carry a spare set of panties with you. You will need them and you have been warned."
My name is Matt Connover. I am a Litigation God.
Other lawyers quake before me.
Women crawl on their knees just to spend the night in my bed and when I'm finished with them, I walk away without a backward glance.
I am well satisfied with my life and there isn't a damn thing I'd change about it.
That is, until McKayla Dawson came along.
She was meant to be for one night only.
But she got under my skin, and now I want her back underneath my body.
It's torture working with her in my law firm… day in and day out. But I have to think maybe the Fates have intervened to throw us together because she is unlike anyone I've ever known, and thus I need to pay careful attention to these Legal Affairs.
****
Confessions of a Litigation God is a stand alone, full length novel. It follows the affair of Matt Connover and McKayla Dawson as told in the Legal Affairs Serial Romance, Volumes 1-6. This book is told strictly from Matt's point of view and has many additional scenes not included in the serial volumes.
I am going to start by saying this book is a stand alone novel in Matt's POV.
I did NOT read the serial Legals Affairs in the female POV and Love Loved this book!
Confessions of a Litigation God is the story of Matt Connover and McKayla "Mac" Dawson. This is the kind of book that will have you wishing you could curl up all day with it and immerse yourself in all things Matt.  The way these two first meet is hot and sexy as all get up; and their reconnecting was classic.
The sexual tension and the draw these two have for each other is palpable. Ms. Bennett did a wonderful job allowing the reader to feel how this connection was different than anything Matt has felt before. And his conflict with that attraction felt true to the character crafted.
Matt's POV was so well done; he was sexy, hilarious and most of all the reader is allowed to truly feel his pain and the reason why he is so determined to keep his heart out of the bedroom activities.
Matt tries to overcome his fear to allow Mac into his heart but the reappearance of his ex-wife or more accurately the presence she has in his life as the mother of his child has Matt struggling with opening himself up. Yes, the ex-wife is someone you may despise, I know I hate her using their son as a weapon to hurt Matt.
And the use of Matt's son, Gabe and the telling of Matt's backstory ensured the reader understands Matt is capable of love, he is just determined to not get hurt again. This for me was one of the best parts of the book; Matt is not just some manwhore who does not want to commit; he is a man almost destroyed by betrayal; a betrayal caused by two people close to him (nope not telling you what or who). When Matt comforts Mac during a family emergency, you also see he is capable of so much love; I loved the caring man painted in these scenes and it had me truly hoping Matt could find a way to overcome his past.
Mac pushed Matt but in subtle ways; when she fully accepts what she wants, I loved how she confronts Matt and tries to get him to understand that pain is part of life. The use of forgiveness in the story may have you as the reader truly thinking how does hate effect my life.
Matt coming to terms with his past; accepting he wants to love Mac forever is so well done and it felt true to both characters; Matt offers what he thinks is best for them and Mac counters with her own version of happy; this truly felt like two lawyers at work.
The ending of this book is epic!  I loved the layered epilogue and I loved that it respected Mac's desire to build her own career and I loved the use of Gabe to make this truly feel like a happy that will withstand the test of time.

USA Today Best-Selling Author, Sawyer Bennett is a snarky southern woman and reformed trial lawyer who decided to finally start putting on paper all of the stories that were floating in her head. She is married to a mobster (well, a market researcher) and they have three big, furry dogs who hog the bed. Sawyer would like to report she doesn't have many weaknesses but can be bribed with a nominal amount of milk chocolate.
---
Series Reading Order
Book 1 – Objection

Book 2 – Stipulation

Book 3 – Violation

Book 4 – Mitigation

Book 5 – Reparation

Book 6 – Affirmation

Boxed Set –

Confessions of a Litigation God