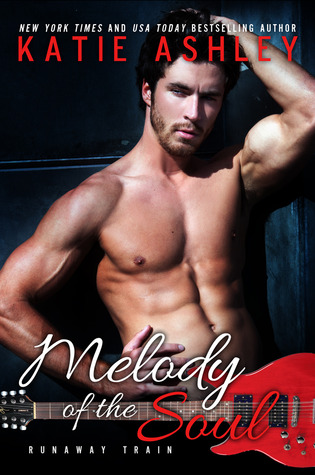 Melody of the Heart

by Katie Ashley
on October 7, 2014
Buy on Amazon
Goodreads


As Rolling Stone magazine prepares an issue on successful rock star marriages, they sit down with Brayden and Lily Vanderburg. After all, the two have been a couple since they were fifteen years old. But there is more to the story than meets the eye, and their love took a slight detour before finding happily ever after.

Told in flashbacks from the present to the past, Brayden and Lily share the story of their unbreakable love.
I have adored Braydon Vanderburg since book 1, Music of the Heart. In book 1, he is the stable married band member. I have so wanted to see his and Lily's story so I have been anxiously awaiting this one and I am so happy to say I was not disappointed. I truly enjoyed this novella.
I loved the tool Ms. Ashley used to tell this couple's history; a Rolling Stones interview sit-down with Brayden and Lily allows the audience to hear their story, one that started when they were 16 years old.
Brayden's story of how he came to play guitar is not one I think many readers would suspect; I love his finding his future in his therapy and nope not telling you…read the book.  But this is truly an example of "its not what life gives you but what you do with it".
Remember this is a sort of  a prequel as it is a married couple telling of how they came to be; so you know they end up married and happy with three children.   But it is clear from the moment that they tell their story of how they met that this couple was destined to be together.
Lily, as Brayden's muse, made for some heartfelt moments and made for a year where the reader can see that Brayden is "lost."
Yes, there was a point in this story were I wanted to punch Brayden in the face; no it was not as bad as it could have been, but it did make sense given his life at the time. The how this all came together broke my heart.
The use of his car, the Challenger was masterfully woven into this story and truly brought a smile to my face as the details unfolded about it and why it was so special.
This story also allows the reader to see the whole band in his younger days and if I had time I would re-read Music of the Heart over again so I could truly see how Abby affected Jake.
Speaking of Jake nope I did not love him in this book until the very end but it made seeing him at the end at Rhys and Alison's wedding even more special; oh yes this book ends with the wedding many of us wanted at the end of String of the Heart.
Towards the end of the book, we learn where Lily and Brayden's oldest child Jude Paul Vanderburg got his name; this was so heartwarming not just the story of how Jude came to be but the use of Paul; Paul is the name of Lily's father and well the use of him in this story brings things full circle (nope not telling you).  And I loved their mission to speak about their youngest Lucy's Autism; strength of character that I have loved about Brayden since book 1 (yes character he loses for a short bit during this one but like I said this is about how he became the man we all love)
The very end of this book may bring a tear to your eye; such a powerful gesture!
I am very much looking forward to Abby's brothers, the men of Jacob's Ladder getting their stories told in 2015.
♥READ THE SERIES♥
Music of the Heart (Runaway Train 1)
Beat of the Heart (Runaway Train 2)
Music of the Soul (Runaway Train 2.5)
Strings of the Heart (Runaway Train 3)
Melody of the Heart (Runaway Train 3.5)