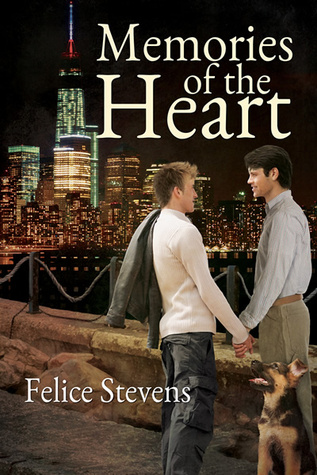 Memories of the Heart

by Felice Stevens
on February 9, 2015
Pages: 255
Buy on Amazon
Goodreads


Ruthless, Controlling, A Loner. All words used to describe Dr. Micah Steinberg by the hospital staff for their next head of surgery. When a letter arrives from his grandmother's friend at the assisted living facility, his orderly world tilts dangerously out of control.

Josh Rosen had everything until it was revealed much of his world was a lie. Forced to re-evaluate his life, Josh gives up his career and returns home to New York City to care for his beloved grandmother. What Josh didn't figure on was an attraction to a man who on the surface, appears to be exactly like the life Josh chose to leave behind.

As Micah struggles with the reality of his grandmother's illness, the bond these two share deepens, as Josh helps Micah heal, then open his heart. Micah discovers there is more to life than work, control and success. Josh is in deep but has yet to tell Micah who he really is.
When the fight for the hospital's head of surgery turns ugly, Josh's past and present collide. Micah must let go of the past and accept who he is, if his life is going to move forward.

Life is full of surprises, and as both Micah and Josh learn, love can happen whether you plan for it or not.
I loved this story!  Dr. Micah Steinberg and Josh Rosen's first meeting is tension filled and their second meeting is epic as these two men have grandmothers in the same assisted living facility (I am not going to say more as I think experiencing these first two scenes first hand is more fun).
I truly enjoyed watching Micah and Josh fall for each other.
I will say early on that the reader knows something about Josh that Micah does not; and witnessing this unfold allows the reader to appreciate even more the "I want you to love me for me" that this book becomes.
As a New Yorker, I want to commend Ms. Stevens on her use of 9/11, it was poignant  and heartfelt and masterfully used in the story.
Micah and Josh bond and develop an easy comfort that feels forever except that Micah is in the closet and surrounded by hospital management that have no tolerance for a gay man or for that matter a man with an interest in family first.
When Micah's past collides with Josh's past, I have to say I was so proud of Micah.  In the end, the journey Micah takes warmed my heart and touched my soul.
I do hope Micah's best friend Alex gets a story!! Alex and Micah's genuine friendship added to this read and had me hoping Alex too finds a happy as this wonderful man deserves it!
I am so enjoying watching Ms Stevens writing develop.  She has truly become a must-click author for me.
If you have not read a Felice Stevens book yet, I strongly recommend a 1-click on this book as I think it is her best book to date!
And as I said Ms. Stevens PLEASE write a happy for Alex! As I think I saw hint and a connection between Alex and the caring and kind vet, Rafe!