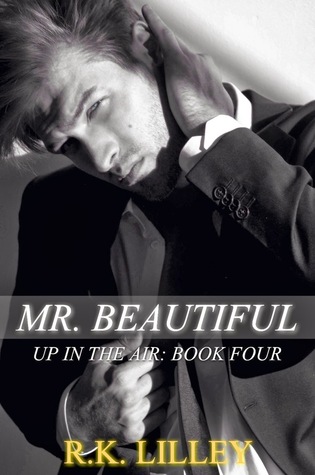 Mr. Beautiful

by R.K. Lilley
on October 14, 2014
Pages: 321
Buy on Amazon
Goodreads


I've been remade four times in my life.

It is a distinct feeling. Impossible to mistake. The very marked sensation of being unraveled and reknit into a new thing, a new person. It can be good or bad, helpful or harmful, but above all, it is unstoppable.

I was remade when my parents died, went from a happy childhood, into navigating a very dark world, with endless responsibilities, surrounded by enemies, and despairingly alone.

It happened again at the hands of a cowardly predator. I'd become angrier with that one, more cynical, and it undoubtedly turned me into the kinky f**k I was today.

The third happened swiftly. One day I looked up into a pair of pale blue eyes and saw the other half of my soul. Checkmate. I went from a completely controlled existence, a life where I made every decision with cold calculation, to a man overcome with feelings and emotions that were foreign but somehow wonderful.

And all too soon after that cataclysmic change was this fourth one, this one where I begged a God I'd never entertained to spare the life of a woman that I could not live without.

Follow all of the characters from the Up in the Air universe in the years after the trilogy, with POVs from James, Stephan, Frankie, Tristan, and Akira.

This book is intended for readers 18 and up.
Mr. Beautiful is book 4 in the Up in the Air series, if you read the prior three books and loved them I suggest you one-click Mr. Beautiful! This book delivers James POV and so much more!
Before I continue, I should add that if you have not read this series I suggest you do, the Up in the Air series allows the reader to see the development of the relationship of James and Bianca as well as the evolution of Ms. Lilley as a writer. Yes, Ms. Lilley's writing skills have continued to improve thorough the series and with this one, she delivers a range of emotions along with the heat that suits James' character.
This book is a companion book to the series, I personally thoroughly enjoyed the glimpses into other characters during the course of Bianca and James' journey.
I loved the look into Stepan and Javier's relationship; hearing from Stepan was so powerful, his story broke my heart and then re-built it. Watching Bianca and Stepan each toast at the others wedding proved the power of love not just soulmate love but the love of friendship; one that runs so deep it becomes a part of you.
When you read this book, make sure to continue to the end as Ms. Lilley provides the reader with a few bonuses and I for one loved hearing from Tristan. The glimpse at what the future might hold for both James and Tristan as fathers has me hoping that this was a hint from the author for more to come.
Watching James come to terms with his love for Bianca, watching him accept who she was and love her for her, spoke to me of their powerful, deep and life changing love. Mr. Beautiful for me showed the power of the forever love. James mentions marriage is not easy and watching his struggle with jealousy felt so real.
In the end, the happy this cast of characters finds made my heart happy and a bit hopeful that we may see more from the little ones as they grow up.
P.S. I loved Jared times 2; hearing from the man side and then seeing the little one; heartwarming and heart pulling at the same time.

♥READ THE SERIES♥
Book 1 – In Flight
Book 2 – Mile High
Book 3 – Grounded
Lana – Novella
Book 4 – Mr. Beautiful