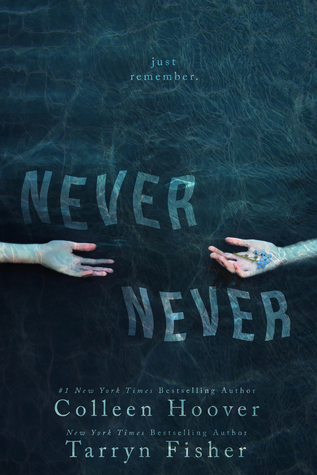 Never Never

on January 8, 2015
Buy on Amazon
Goodreads


Best friends since they could walk. In love since the age of fourteen. Complete strangers since this morning.
He'll do anything to remember. She'll do anything to forget.
Colleen Hoover and Tarryn Fisher are two of my favorite authors; authors who are always must buys for me. Writing a series together, they are a force to be reckoned with!
This review will be on the shorter side because I don't to spoil this read for you as you truly need to go in blindly and experience it for yourself.
I will say this…Never Never is one of those books that you will have to reread (I am planning to this weekend) because I am sure I missed clues. Colleen and Tarryn said themselves that EVERYTHING in this story has meaning and as I write my review, theories and scenarios are running through my mind because I want to figure it out…I NEED to know more. It is so addictive.
Charlie and Silas have known each other since childhood but in this moment, they have no recollection of each other or life as they know it. What?!
Completely mysterious and intriguing, Charlie and Silas set out to find out the truth. Watching their reactions to everything including each other has me completely mind blown; continuously guessing behind Colleen and Tarryn's evil genius.
I will leave you with this…this is something that was completely unexpected but mind boggling good. So well written and seamless – for two authors who I feel have completely different writing styles, I was trying to figure out as I was reading who wrote what and I honestly couldn't figure it out. The story, the writing, the characters…EVERYTHING…just worked for me.
Of course we are left with a cliffhanger and it left me thinking and wondering. But this is what makes a good book. Something that leaves an impression on you, leaves you wanting more and thinking about it. Because I will be honest and say I have not stopped thinking about it since I finished it. I love when an author makes your mind work and I didn't expect anything less from Colleen and Tarryn than complete and utter brilliance.
I can not wait for the next installment in this series and hopefully we don't have to wait too long. This is the hardest review I have had to write in a while because I am not really saying anything other than READ IT! READ IT! READ IT! Join us in coming up with crazy theories on what is going on and what will happen. I love hidden messages and can't wait to devour more! You can join the Never Never group AFTER reading HERE on Facebook!
Make sure to enter for a signed paperback below!!!