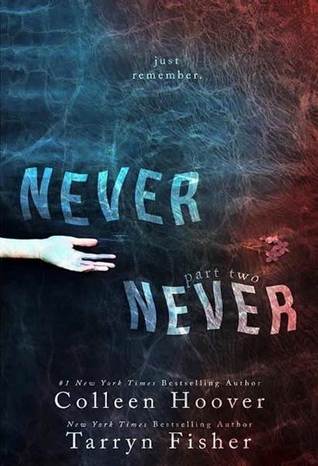 Never Never: Part Two

on May 17, 2015
Pages: 111
Buy on Amazon
Goodreads


"Never forget that I was your first real kiss. Never forget that you'll be my last.
And never stop loving me between all of them.
Never stop, Charlie.
Never forget."

Silas races against time as more truths unravel, while others twist tighter together. And now, the stakes are higher as Silas' control slips and others begin to point fingers. Charlie is in trouble and he must be the one to bridge the chasm between their past and their present. Because somewhere between I love yous and Never Nevers and Never Agains, a truth they can't imagine, beckons to be found.

"Where are you, Charlie?"
I enjoyed the next installment in the Never Never series. Just to forewarn you that this review will be short as I don't want to give away too much information.
While answering some of the reader questions, Never Never 2 also leaves you with more questions to think about.
Silas is still on his search for Charlie and trying to piece together their past before time runs out and he loses his memory again. With every piece of the puzzle that Silas seems to put together, more questions keep coming and I have to say that though I loved the suspense, I also became frustrated because I JUST WANTED TO KNOW lol….I just wanted my confusion to go away and have that light bulb moment where everything made sense. Did we need this installment…would it have been better to make the Never Never series 2 books rather than 3? I am still debating on the answer to this question myself quite honestly….
So while I wait patiently for the next and final installment to be released I will say this…..My 4 star review is based on the quality of the story, the writing, the characters and the reactions that this series evokes. The writing for both Colleen and Tarryn are even better in this installment as it is seamless. You can't tell whose voice is whose as their writing style is even more in sync making it seem as though written by one person rather than two.
The fact that people talk about this series, that it keeps them guessing and wondering why and how everything happens shows how riveting and captivating this story is. While yes it is short, it still keeps us entertained and wanting more. I have found while reading Colleen and Tarryn's previous books outside of this series, that everything they write has purpose and meaning. I am certain that once we get to that final installment that it will all come together and be so worth the wait.
One of my favorite parts of this book were the letters written. I completely loved these letters…I loved the look into Silas and Charlie's relationship but even more than this, I love the feeling at the end where I am left wanting MORE!! I can't wait to get the conclusion to this series and to find out the why's and how's and to finally get all of my answers.
Colleen and Tarryn are must read authors for me and together they are a force to be reckoned with…


Signed Paperback of NEVER NEVER 2 by Colleen Hoover and Tarryn Fisher

♥READ THE SERIES♥
Book 1 – Never Never
Book 2 – Never Never 2
Colleen Hoover is the #1 New York Times bestselling author of Slammed, Point of Retreat, This Girl, Hopeless, Losing Hope, Maybe Someday, Finding Cinderella, Ugly Love and Confess. She lives in Texas with her husband and their three boys.
Facebook https://www.facebook.com/AuthorColleenHoover
Twitter https://twitter.com/colleenhoover
Author website http://colleenhoover.com
Goodreads https://www.goodreads.com/author/show/5430144.Colleen_Hoover
Instagram http://instagram.com/colleenhoover
Tarryn Fisher is the New York Times and USA Today Bestselling Author of six novels.  Her latest novel, Marrow, just released in April 2015 and she is currently working on the third installment of Never Never.  She is the co-founder of the fashion blog Clothed Caption. Tarryn resides in the Seattle area with her family. She loves rainy days, Coke, and thinks Instagram is the new Facebook.  Tarryn is represented by Amy Tannenbaum of the Jane Rotrosen Agency.
Facebook  https://www.facebook.com/authortarrynfisher
Twitter https://twitter.com/Tarryn__Fisher
Author website   http://www.tarrynfisher.com/
Goodreads   http://www.goodreads.com/author/show/5410816.Tarryn_Fisher
Instagram  http://instagram.com/tarrynfisher