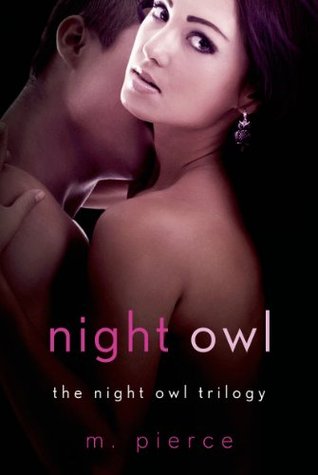 Enter for a chance to win some amazing giveaways using Rafflecopter below. Good luck!!!
---

"Tautly written, complex, and vibrating with a dark sensuality that will have you at once blushing and anxious. You'll think you have this book pegged . . . but you'll be wrong."—Christina Lauren, New York Times, USA Today, and international bestselling authors of The Beautiful Bastard series
From bestselling ebook author M. Pierce comes Night Owl, the first novel in a provocative erotic trilogy where an anonymous online writing partnership turns into an uncontrollable, passionate obsession.
At twenty-eight, Matt Sky has the perfect life. He has a beautiful girlfriend, a massive inheritance, and four national bestsellers — all penned under his airtight alias, M. Pierce.
At twenty-seven, Hannah Catalano is a train wreck. Her boyfriend is a deadbeat and her job is abysmal.
Matt and Hannah meet online as writing partners. Their relationship is safe, anonymous, and innocent…
Until Matt sees a picture of Hannah. Hannah's picture sparks an attraction Matt is powerless to ignore. When circumstance brings Matt and Hannah together, the strangers begin a love story that's passionate, poignant, unforgettable, and unstoppable.
The story of Matt Sky and Hannah Catalano was powerful and engaging. Matt and Hannah start out as writing partners with rules, boundaries because as the blurb reveals he has a girlfriend. (this was the only part of the book that really did not work for me)
The author did a wonderful job at allowing the reader to feel the pull these two have for each other. When they finally give into the connection you could feel the heat, the pull and the undeniable force of them wanting each other.
As the relationship develops you know it's coming, you know something is coming because Matt is M Pierce (a best selling author referenced in the book), the reader knows this but Hannah does not, the unraveling of that was so well done.  It made for conflict, a true glimpse at who Matthew really wants and makes you think "what would you do for your soulmate?"
Matt, oh Matt…when Matt is the one that unravels – his pain was tangible to the reader and I truly respect the author's portrayal of the pain. Mr. Pierce did not heal Matt overnight, he struggled and battled to pull back from his struggles with mental illness (addiction, likely some depression, maybe some residual PTSD and as his girlfriend suggests maybe even social anxiety) Ok maybe I should pause here, yes sadly when you meet Matt, he has a girlfriend, and I should say I struggled with that a bit.
So as I said – I adored how Matt was built as a character, he was well developed and felt real to his own pain; did I love him… well no, I struggle with cheaters. Now I did love this book and the story is one that will stick with me so if you are like me and have cheater issues I would still recommend Night Owl, it an enjoyable read.
Back to Hannah and Matt – as they start to interact, the reader can feel the connection as their walls and boundaries start to crumble. The pull these two have for each is tangible and powerful and when they finally connect physically – well that did have me understanding how Hannah could adore Matt so much and want him with the depth of her soul.
Matt and Hannah's love, their connection will stick with me for a long time to come!
Oh the end.. the end of the book…yes it threw me for a loop, yes I am looking forward to the now delayed (due to a publishing deal) book 2 in The Night Owl series. I am very much looking forward to more Hannah and Matt.

M. Pierce is the bestselling author of Night Owl, book one in the erotic Night Owl Trilogy. The author lives in Colorado and owns a rabbit named Laurence.