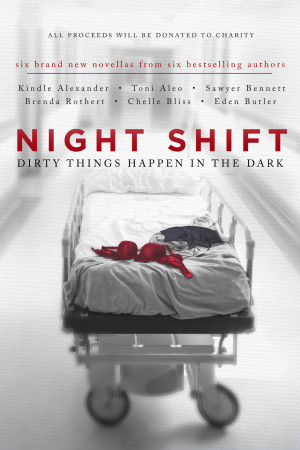 Night Shift: Dirty Things Happen in the Dark

on March 17, 2015
Buy on Amazon
Goodreads

Summer in the Big Easy is hot.

Inside Tulane Medical Center the temperature is on the rise.

Six never before released stories that will leave you breathless.

Dirty things happen in the dark.

Off Duty
Sawyer Bennett

A member of the New York Fire Department, single father Tim Davis is about as tough as they come. But underneath the muscles and tattoos, he still nurses a bruised heart handed to him courtesy of his first love. While on vacation with his son in New Orleans, Tim runs into the very woman that taught him about love before pulling it all away.
Holly Reynolds is rebuilding her life as an orthopedic doctor, far away from her home in New York City and her controlling father - the man responsible for tearing her and Tim apart. While she knows the hurt she caused Tim could never be forgiven, she can't help the overwhelming feelings she still has for her first and deepest love.
Truths are revealed as lies are exposed.

Rebound
Chelle Bliss

After losing the love of his life to another man, Flash is heartbroken and lost.
Wanting to forget, he heads to New Orleans. He finds the unexpected.
A chance encounter could alter his fate or will she become his rebound?

Wanting to Forget
Toni Aleo

Jordie Thomas is looking for something to take his mind off of the woman he let go—or rather, pushed away—and the terrifying prospect of what will happen if his broken leg doesn't heal. He's ready to get back to his family and fellow teammates on the Nashville Assassins and get back onto the ice. However, with his injured leg in the way and his mind clouded by a certain woman, he needs a break to clear his head and his heart. With New Orleans in his sights, can this player find a way to get back to the crazy and reckless life he used to live? Find out as author Toni Also takes readers on a wild journey in this Assassins novella.

Closet Confession
Kindle Alexander

Dr. Derek Babineaux is intelligent, dedicated, and one of the best ER physicians in the fast-paced world of critical care at TMC. Always on top of his game, he's thrown off balance when the newest staff member unleashes his hidden desires.

Justin Delacroix's job at the inner city's busiest hospital might be just what he needs to ease back into civilian life. There's only one problem, his attraction for one sexy ER doctor is off the charts, but he has reasons for not returning Dr. Baby's advances. Or maybe he doesn't.

Healing Touch
Brenda Rothert

She spends her nights treating patients, but Dr. Jocelyn Drake's own wounds are unfixable. A fierce determination to continue her research project and a shred of remaining pride keep Joss from transferring out of the Big Easy.
Carson Stephens recently returned from a tour of duty in the Middle East, and now his closest companion is loneliness. His night-shift work supervising the electrical and mechanical systems at the hospital is a perfect fit – it's solitary work putting broken things back together. If Carson has his way, his hands will work their magic on more than the wiring, and he'll show Joss a night of passion that restores her shattered confidence.

Swimming in Shadows
Eden Butler

Neil Ryan was a good Navy SEAL. He was an even better detective, but when an unmarked envelope lands on Ryan's desk, long-buried secrets are resurrected and Ryan questions everything he thought he knew about justice, including who killed his mother.
Now he's chasing a ghost, swimming in the shadows of the past, searching for answers. Ryan lands in America's wildest, sexiest city tangling with a redhead, chasing down a dead woman, and trying to get his best friend to stop hounding him about a business he wants no part of. When a set up sends him straight to Tulane Medical, and into the care of the girl he never forgot, Ryan finds the strength and healing to unravel the mysteries of the past.
Night Shift: Dirty Things Happen in the Dark in an anthology consisting of all NEW stories from 6 authors. Let me say that again because it still puts a lump in my throat. 6 amazing authors have taken the time to write NEW stories to benefit charity.  100% of the proceeds from the sale of this limited edition anthology will go to charity.
I was humbled when I was informed of this project and told that the Keith Milano Memorial Fund at the American Foundation for Suicide Prevention (AFSP), a memorial fund set up to honor my brother and only sibling who died by suicide in 2004, would be one of the three charities to benefit from this.
When Keith passed away, I made a promise that he would not go quietly. It is with the help of all of you that 10 years later I am able to keep this promise. Keith was bipolar. I know we often whisper about mental illness but I will not whisper that my brother was sick. He had a chemical imbalance of the brain.  And despite seeking treatment, he could not find anything to relieve  his pain; yes I said pain.  Just like Robin Williams, Keith hid his pain behind a brilliant smile, a smile many often comment on when they see his photo.
For as long as there is stigma around mental illness, as long as after a death by suicide someone whispers what are you going to tell people, for as long as people are ashamed to speak of these diseases and for as long as those suffering feel like ending it all is the only way to silence the pain – I will keep working in Keith's memory to reduce the stigma about mental illness and to raise funds to develop better treatment.
Thank you, just does not seem like enough so please know that from the depths of my soul and to the fullness in my heart, every one-click of this book helps others and continues to reduce the stigma. I hope that as you read this or when you read our posts during the 3rd Annual Book Fundraiser in May, an event that also benefits the Keith Milano Memorial Fund at AFSP, that you will take the time to share a story, a story of struggle, a story of survival or maybe just maybe a story of hope.
I have struggled with the best way to review this book, how to express my gratitude and how to speak of these amazing stories.
For review purposes and since this post is already long since I babbled, I am going to review Closet Confessions by Kindle Alexander and Off Duty by Sawyer Bennett. The introduction to these stores in the book ties them together with the hashtag  #loveislove.
Closet Confessions opens with a dedication that brought tears to my eyes; you see this book is dedicated to Keith. Yes Ms. Alexander dedicated this book to my deceased brother, a man she never meet.  Now that is just WOW and truly optimizes my promise that Keith would not go quietly. Ms. Alexander there are no words, you touch my soul.
Ok the book is Closet Confessions…I loved this story! Ms. Alexander's plot twist took me from to wanting to grab Dr. Derek Babineaux and throttle him to wanting to hug him.  And nurse Justin Delacroix, this poor man who can't seem to get out of his own way.  I should pause and say yes this story is about two men. Ms. Alexander's story is a gay romance, tying into the #loveislove theme and I hope readers will give this wonderful heartfelt story a try!
Off Duty by Sawyer Bennett is a tie-in to her Off Series, a series I love. Single Dad and New York FireFighter Tim Davis was Flynn's partner in Off Chance.  You do not need to read that book or any of the Off Series to love this story!
In this story, Tim is on vacation with his son in New Orleans when he comes to face to face with his past, Holly Reynolds.  The way Ms. Bennett brings these two face to face is epic, the reader can feel the sparks fly.   Tim is African American and Holly is a white doctor from a wealthy family in New York so the #loveislove theme here is interracial.
Ms. Bennett masterfully painted this second chance romance in a fashion that has the reader knowing these two were meant to be together. The thing that separated them when they were young, well the resolution to this truly took this story full circle. I also want to mention I loved Tim's son, he felt so real and the use of him in the story was wonderful.  Thank you, Ms. Bennett as you know I so wanted Tim to have happy when I read about him years ago and your nailed it!
I truly hope readers will purchase the anthology and give all the authors a try.
As you read and love these stories, as you too are touched by the effort of these wonderful authors that you will use the hashtags #isupportmentalhealthawareness and #loveislove.
You can learn more about the Keith Milano Memorial Fund here www.keithmilano.org
Like us on Facebook at https://www.facebook.com/keithamilano
Follow us on Twitter @MilanoFund
You can make a direct donation to the Keith Milano Memorial Fund at AFSP here: http://bit.ly/MilanoFund