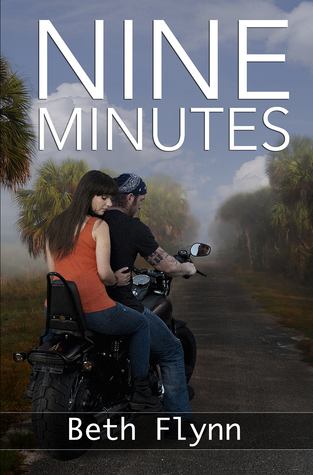 Nine Minutes

by Beth Flynn
on July 23, 2014
Pages: 317
Buy on Amazon
Goodreads


On May 15, 1975, fifteen-year-old Ginny Lemon is abducted from a convenience store in Fort Lauderdale by a member of one of the most notorious and brutal motorcycle gangs in South Florida.

From that moment on, her life is forever changed. She gets a new name, a new identity and a new life in the midst of the gang's base on the edge of the Florida Everglades—a frightening, rough and violent world much like the swamps themselves, where everyone has an alias and loyalty is tantamount to survival.

And at the center of it all is the gang's leader, Grizz: massive, ruggedly handsome, terrifying and somehow, when it comes to Ginny, tender. She becomes his obsession and the one true love of his life.

So begins a tale of emotional obsession and manipulation, of a young woman ripped from everything she knows and forced to lean on the one person who provides attention, affection and care: her captor. Precocious and intelligent, but still very much a teenager, Ginny struggles to adapt to her existence, initially fighting and then coming to terms with her captivity.

Will she be rescued? Will she escape? Will she get out alive—or get out at all? Part psychological thriller, part coming-of-age novel, filled with mystery, romance and unexpected turns, Nine Minutes takes readers into the world of one motorcycle gang and inside the heart of a young girl, whose abduction brought about its fall.
First, I was immersed in this book and the world Ms. Flynn created, second I don't normally read MC books but the blurb for this one grabbed my attention and I have to say I was so glad it did. I am going to try my best to relay my love of this story. Third and maybe most important, I am writing this review with the blurb open as I do NOT want to reveal anything about this story.
I truly believe the reader should experience this book as I did with the WOW and the twists and turns and the OMG moments.
Nine Minutes is the story of Ginny Lemon who in 1975 at the age of 15 was kidnapped.
The gang's leader, Grizz was a man of many layers and whose behavior around Ginny (or rather the woman he turns her into because yes Ginny gets a new name and new identity) makes almost feel like two people. His devotion and love for her felt real and although it did put her life at risk sometimes I don't think there was a more powerful way to display the depth to which she touched Grizz to his soul.
The reader truly lived this experience with Ginny, you felt her evolving and changing as she grew up and lived inside of this culture.
I will say a man whose name does not appear in the blurb plays a huge role in the book and in the heart pounding end as it unfolds.
This book was written in such vivid detail that the descriptions of the criminal activity will likely be stuck in my head for a long time to come. Yes, some of the images are very distributing but they allow the reader an unparalleled look into this world and the depth Grizz will go to protect what is his and to ensure his rules are followed.
If you love a book the pulls you right in, if you love a book that keeps you living in the characters moments, if you love a book that will have you thinking about it long after you put it down, I highly recommended you 1-click and jump right in. Yes, even if like me this is not the typical genre you read, give it a try, I did and I was not disappointed! Ms. Flynn's story will stick with me for a long time to come!
I can't wait for book 2 Out of Time; like I wish the world would be put on hold when this book is released! Oh and FYI I don't want book 2 because book 1 is a cliffhanger. I want to know more about this world, about these characters about more of the secrets wrapped up in this web of a story!