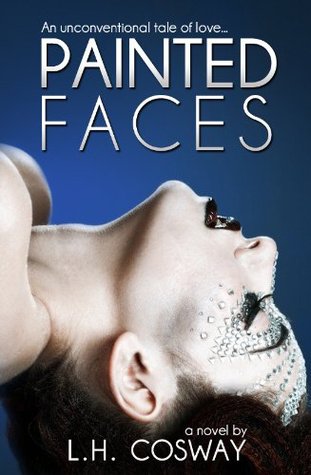 Painted Faces

by L.H. Cosway
on December 16, 2012
Pages: 358
Buy on Amazon
Goodreads


Come forth with an open mind, for an unconventional tale of love..

Dublin native Freda Wilson considers herself to be an acquired taste. She has a habit of making offensive jokes and speaking her mind too often. She doesn't have the best track record with first impressions, which is why she gets a surprise when her new neighbour Nicholas takes a shine to her.

Nicholas is darkly handsome, funny and magnetic, and Freda feels like her black and white existence is plunged into a rainbow of colour when she's around him. When he walks into a room he lights it up, with his quick wit and charisma. He is a travelling cabaret performer, but Freda doesn't know exactly what that entails until the curtains pull back on his opening night.

She is gob-smacked and entirely intrigued to see him take to the stage in drag. Later on, Nicholas asks her if she would like to become his show assistant. Excited by the idea, she jumps at the chance. Soon she finds herself immersed in a world of wigs, make-up and high heels, surrounded by pretty men and the temptation of falling for her incredibly beautiful employer.

In this story of passion and sexual discovery, Nicholas and Freda will contend with jealousy, emotional highs and lows, and the kind of love that only comes around once in a lifetime.

**Not suitable for younger readers. Contains some strong language and scenes of a sexual nature.**
So I am on a total L.H Cosway kick right now and after reading Six of Hearts, I immediately picked up Painted Faces because I NEEDED MORE from this author! And boy, she never disappoints.
You know when you are looking for your next read, looking for something different and out of the box, not your typical love story but one that speaks to you? Well Painted Faces is that for me and SO MUCH MORE!
I have loved so many book characters in my blogging days but none that have spoken to me like Viv (aka Nicholas) and Fred. None who have completely stolen my heart like they have. The emotions, the friendship and the love the exuded from these characters was so pure, so good and so real that you feel complete envy in your heart for even a small dose of what they have. And that you immediately want to start all over and read again to experience it again and again speaks volumes to me about what a great writer L.H Cosway is.
So what's it about?
Nicholas is a traveling cabaret performer who moves in next door to Freda Wilson. He is a sarcastic, handsome, flirty guy by day and dressed as a woman on stage at night. It was amazing for me to experience both sides of Nicholas, seeing the manly flirty guy side and the soft woman side making him a force to be reckoned with. That dynamic in itself was so different for me and I enjoyed watching this relationship grow. I thoroughly enjoyed the slow build up..I am not a huge fan of insta love and loved watching the progression from friendship to something more between Nicholas and Fred. The push and the pull, the feelings and attraction that is so glaringly there between them. But it was always the friendship that came first for them. You see Nicholas has a past and secrets that make him the man he is today. Deep inside, he is a loner, afraid to trust and let anyone into his heart because of his fears.
I absolutely LOVED Fred from the start! With her quick wit and responses that come from her mouth with such ease; there was almost a good girl innocence about her too. She doesn't realize or see how perfect and beautiful she truly is but Nicholas saw it all from their first meeting. Fred also has her own past that prevent her from getting involved in relationships and with both of their hang-ups I was emotionally vested in how this would turn out in the end, I rooted for them to work because I couldn't see anyone more perfect for each other than these two.
So how can someone who was never shown love accept it for them self? How can someone who doesn't see their own self worth realize how deserving they are of being loved? Will these two be able to move beyond their pasts to fully accept their feelings for each other and be able to accept love?
You will have to read this book to find out!
Painted Faces, though it came out in 2012, is one of the best books I've read all year! Beautifully written, original, witty and emotionally captivating…I couldn't ask for a better love story about 2 wonderfully amazing characters! There is just so much depth in the story and characters that it's hard to do justice with this review but trust me that this is a MUST READ for all. LH Cosway is brilliant and I will read anything and everything she writes! 5 EPIC Fred and Viv STARS! This is a book that I will never ever forget!
This song basically sums it up for me…I cried over and over and you will too! So worth the journey – pick up a copy today!!!
So thankfully, we actually get MORE of Nicholas!!! Ms. Cosway is currently writing a novella titled KILLER QUEEN which is releasing in October so be on the lookout!!!!!