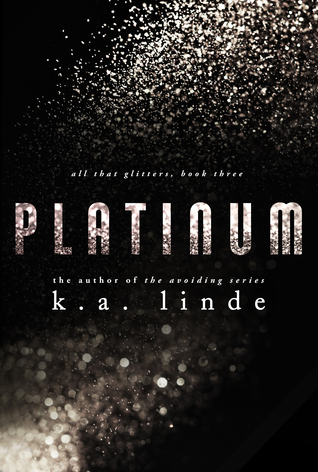 Platinum

by K.A. Linde
on February 16, 2016
Buy on Amazon, Buy on iTunes, Buy on Kobo
Goodreads


Cheating is my hard limit.

The only thing I truly fear.

My heart was shattered once before, and I swore it would never happen again. This time I chose the safe guy who wouldn't destroy me. Turns out…they don't exist.

So when the sexiest Brit I've ever met dances right into my life, I offer him a one night stand. No strings attached. My perfect rebound, with zero chance of betrayal. It's everything I hoped for. But he demands more than I'm willing to give.

I refuse to be fooled again, because I know a man I can count on is rarer than… Platinum.

Follow the conclusion to Trihn's story in this sexy, heart stopping fourth book in USA Today bestselling author K.A. Linde's All That Glitters series.
Happy Release Day to K.A. Linde and her new book PLATINUM! Enjoy the conclusion to Trihn's story who is my fave in the series so far! Enter to win a $5 Amazon Gift Card by sharing the buy links on your social media and commenting on this post with a link to where you shared! Good luck!
♥ Platinum Buy Links ♥
Platinum is the conclusion of Trihn's story from Emeralds. Those who have read Emeralds know that Trihn suffers from trusting anyone as her belief in people has been tried and tested time and time again.
I have to say that out of all of the women in the All that Glitters series – Trihn is my favorite so far. Maybe it's because she is a good girl, she has a heart and is a good friend, and nothing about her is manipulative. For me, I wholly believe that she deserves all good things.
So…the jerks that have been in her life cheating on her…hurting her. I wanted to strangle each and every one of them because they just built upon the layers and layers of mistrust she already has in her heart.
But when we meet Damon…whoa! What starts as a rebound has the potential to be so much more because for once, Trihn has met a guy better than just a rebound; she has met a guy that will stop at nothing to gain her trust and win her heart.
Does this sexy, hot, British DJ stand a chance at winning the heart of the skeptical and suspicious Trihn? Well, you will have to read this book to find out? "What is love without trust?"
Kyla is the QUEEN of Angst and readers who love angst will enjoy the pull at your heartstrings, nerve wracking scenes that create turmoil in your head and heart that Kyla is so fond of doing to her readers…This is one you don't want to miss! xo

Enter to win a $5 Amazon Gift Card.
All you have to do is share the buy links for K.A. Linda's Platinum release on your social media account(s) (Facebook, Twitter, Instagram, etc). Sample message below:
#Platinum is LIVE  Happy Release @authorkalinde
Please make sure to post a link to your shares below. ONE winner will be chosen on Sunday February 21st at 10am EST! Good luck! And thank you for sharing!
♥READ THE SERIES♥
Book 1 – Diamonds
Book 2 – Gold
Book 2.5 – Emeralds
Book 3 – Platinum