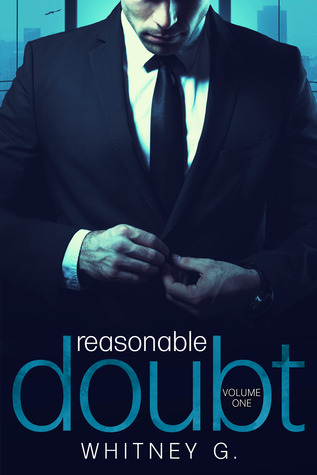 Enter for a chance to win an ebook copy of book 1 in this serial!
---

My cock has an appetite.
A huge and very particular appetite: Blonde, curvy, and preferably not a fucking liar…(Although, that's a story for another day.)
As a high profile lawyer, I don't have time to waste on relationships, so I fulfill my needs by anonymously chatting and sleeping with women I meet online.
My rules are simple: One dinner. One night. No repeats.
This is only casual sex. Nothing more. Nothing less.
At least it was , until "Alyssa"…
She was supposed to be a 27 year old lawyer, a book hoarder, and completely unattractive. She was supposed to be someone I shared law advice with late at night, someone I could trust with details of my weekly escapades.
But then she came into my firm for an interview–a college-intern interview, and everything fucking changed…
**Book 1 in a three part Erotic Romance Serial.**

Christine's 4.5 STAR Review!!!
Oh my! So of course the blurb had me from the first sentence – it just screams at you to pick up this book and I did and I am so glad that I did it!  The new thing these days are the serials – I am not sure how I feel about them yet as they are short and just as things are getting good, I am left with a cliffhanger.  However, at the same time, what I do like about them is that they are short to the point that I can squeeze them into my crazy reading schedule and it gives me a tiny deviation from my schedule that I so need and enjoy every so often.
So that's what I did with Reasonable Doubt.  So Andrew is a quick fuck and run kind of guy. He doesn't believe in relationships and the extent of his "dating" is one dinner, one night and onto the next.  Andrew has built his life detaching himself from any emotional connection with anyone, refusing to have feelings or friendships.  The only one that he is not like this with  is a "friend" he met on an online lawyer chat named Alyssa.
So as the story starts unraveling and we start learning the truth with Andrew as he is interviewing a future intern for his firm, holy hell are we in for an enjoyable ride.
This was the first book I have read from this author and will certainly not be my last. Though short, I found Reasonable Doubt to really pack a punch!  It was not only captivating and well written, but it was also sexy and shocking.  I also found it very humorous as I was laughing out loud – this was totally unexpected and of course with the cliffhanger, I am left wanting more.
I can't wait for the next installment in this series! Job well done!

A self diagnosed candy addict, travel junkie, and hypochondriac, Whitney Gracia Williams LOVES to write about characters that make you laugh, cry, and want to (in the case of Selena Ross) reach through your Kindle and slap them.
She is the "imaginary bestselling" author of the Jilted Bride Series, Mid Life Love, Wasted Love, and Captain of My Soul.
When she's not locked inside her room, feverishly typing away on her laptop, she can be found here:
http://www.whitneygracia.com
She also loves getting emails from her readers, so if you want to tell her how much you loved (or hated) her stories, email her at whitgbooks@gmail.com!
---