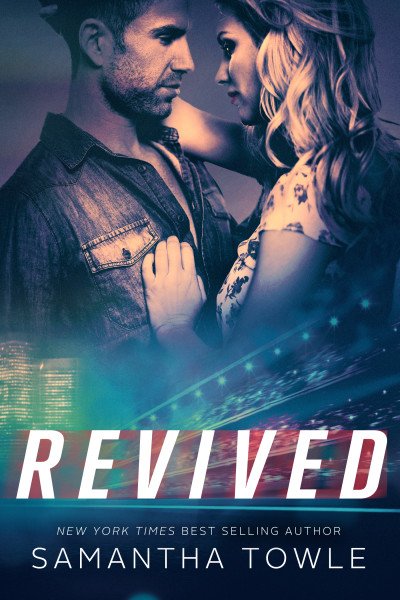 Revived

by Samantha Towle
on July 12, 2015
Buy on Amazon
Goodreads


India Harris didn't have the best start in life. Abandoned as a baby, she and her twin brother, Kit, spent their lives in foster care, only having each other to rely on. Then, at a young age, a relationship with the wrong man left India pregnant. Wanting to give her son the life she never had, she put herself through school and graduated with honors.

Now, at the age of thirty, she's a highly respected therapist.

At the top of his game as a Formula One driver, Leandro Silva had everything—until an accident on the track left him staring death in the face. After enduring twelve months of physical therapy, Leandro is now physically able to race, but his mind is keeping him from the track. Frustrated and angry, Leandro's days and nights are filled with limitless alcohol and faceless women.

Entering the last year of his contract, he knows he has to race again, or he'll lose everything he spent his life working for. Forced into therapy to get his life back, Leandro finds himself in the office of Dr. India Harris.

Falling for his uptight therapist is not part of Leandro's plan.

Having unethical feelings for her patient, the angry Brazilian race car driver, is not part of India's plan.

But what if the wrong person is the only person who is right?
I love Samantha Towle books and couldn't want to read Leandro's story after meeting him in Revved.
Towards the end of Revved, we learn that Leandro suffers a horrible accident while racing that puts him out of commission for many months.
Revived is Leandro's story and allows the reader to meet the man that once was on top, at the height of his game in racing, to now showing vulnerability in need of therapy to overcome his fears of ever racing again. You see Leandro is a shell of who he once was – yes still a sexy and hot woman lover yet unconfident and broken.
When we meet India Harris in the prologue to this book, my heart just broke for her and her circumstances. But despite the rough start, she is strong and successful and is the person who will help Leandro as she is his therapist. What I loved about India is that she is real….that despite wanting to do what's right by Leandro that sometimes you can't help who you have feelings for and who you are attracted to.
So will the therapist be able to cure the hot Brazilian and will he ever be able to race again? Can love overcome despite India's conscience and what is wrong and right in the patient/doctor relationship?
You will have to read this book to find out!
While I enjoyed this book and loved the push and pull of forbidden love and attraction, I missed Towle's trademark angst and heart palpitations. I am not a huge fan of insta-love/insta-attraction so wanted a bit more from India and Leandro. However, I do feel that readers looking for a fun read will enjoy this book so definitely give it a try – Towle gives us sexy times, racy characters and a story of both physical and emotional recovery. The double epilogue is the BEST!

Leandro
"Are you yelling at me?" I say to her.
Seriously, there's something wrong with me because I get majorly turned on when she gets mad. Seeing her all fired up has my cock as hard as nails. Well, pretty much anything she does has my cock hard, but her anger is a definite aphrodisiac to me.
"Bloody well sounds like it, doesn't it?" Her brow is all puckered into a frown.
She looks hot as fuck.
"I really want to fuck you right now," I tell her in all seriousness.
Her eyes swing my way, wide and blazing. "Are you being serious?"
"I never kid about fucking you."
"Jesus! You're really pissing me off," she huffs.
She makes to get up from the sofa, but I catch her arm, stopping her, and I pull her onto me. She makes a sound of protest but doesn't actually try to get up.
"And you're really turning me on," I say to her.
Pausing she stares down at me. "I'm really mad at you right now, Leandro," she grumbles, her voice less angry than before.
"Yes, well, I'm kind of mad at you, too, India. But I'm still hot as fuck for you." I slide my hands to her ass giving it a squeeze.
She narrows her eyes at me. "We're not having sex."
"Not right now we aren't, but as soon as Jett is asleep, I'm tying you to your bed and fucking the hell out of you."

♥ Books in the Series ♥
Book 1 – Revved
Book 2 – Revived