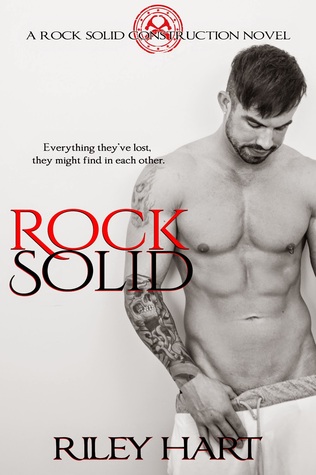 Rock Solid

by Riley Hart
on April 27, 2015
Buy on Amazon
Goodreads


Trevor Dixon has made too many mistakes to count. Sober for thirteen months, he's determined to do the right thing: rebuild his relationship with his family, and help his brother get Rock Solid Construction off the ground. Failing them again isn't an option. Too bad the first estimate Trevor goes on alone is for an uptight doctor with a superiority complex.

A hand injury took away the only important thing in Dr. Simon Malone's life—performing heart surgery. He doesn't do well with people and has no family, but being a damn good surgeon? He always had that. Now, he doesn't know who he is. The last thing he wants to deal with is the young construction worker who blows his shot at remodeling Simon's home.

Trevor and Simon form an unlikely friendship. The more time they spend together, the more Trevor starts wondering if maybe Simon's not as straight—or uptight—as he thought…and maybe Trevor's new attraction for Simon runs both ways.

There are too many reasons they shouldn't be together: they have little in common, their age difference, Trevor needing to focus on his sobriety…yet there's something about each other that they just can't shake. They don't feel so lost when they're together. But with their footing so unsteady, forming a relationship that's rock solid seems impossible. There's blow after blow, and the last one just might be powerful enough to crack their foundation for good.
Rock Solid is the story of recovering addict Trevor Dixon and heart surgeon or more accurately former heart surgeon Dr. Simon Malone.
This line from the book best describes it:
"…it's hard to figure out who you are when the one thing you think defines you is gone."
And this one truly touched me:
"I'm trying to move on. My past isn't who I am."
Simon was a surgeon, in true type-A over-achiever style, he had defined himself by his career. Trevor is a recovering addict who wants nothing more than to never repeat the mistakes of his past. So while one man is mourning and in pain over what he lost, one is fighting hard to learn from the past and move forward.
Simon and Trevor have a pull. The author did a wonderful job at allowing the reader to feel why this is different for each of them.   Though Simon was married before, you truly do feel like that he finds something in Trevor he has never had before.
These men are from different places, like I said one wants to escape the past, while one wants to get his past back and there is an age gap.  But somehow the author transcends that and the reader just sees two men who fill a new space in each others life, they just fit together.
I loved the use of Trevor's twin, his gay twin Blake.  I am looking forward to Blake hopefully having his story told soon!
The end of this book has an epic twist as Trevor and Simon's lives truly intersect.  I adore how true Ms. Riley was to  addiction, Trevor's pain and struggle especially in the powerful scene toward in the end was powerful.
The epilogue of this book brought these men new passion in so many ways, passion beyond just their love, passion for a full life with the love of your soulmate (not just about the love of that person).