Enter for a chance to win an ebook copy of this book using Rafflecopter below! Good luck!
---
4.5 STARS!!!
Synopsis
****NA Contemporary Romance, can be read as a stand alone. Due to theme of Child Abuse, Explicit Language, Mild Violence, and Sexual Situations – Recommend Readers 18+******
Tatum O'Connell:
Some call me a party girl. People see me as happy, full of life, with absolutely no cares in the world. They see what I want them to see. But no one knows me – really knows me. Not even Noah Reese. Mr. Perfect is always watching me, most likely judging every single imperfect thing I do. But, if Noah wants to keep an eye on me, that's just fine. I definitely don't mind. I just hope he doesn't have any plans to save me from my new-found life of self-destruction because in order to save me, he will have to see me…
And I'm never going to let that happen.
Noah Reese:
Perfect. That's me. That's the only acceptable way to be, according to my father. Perfect grades. Perfect manners. Perfect athlete. Perfect SAT scores. Perfect college. And recently, I was accepted into the perfect med school. My future has already been mapped out for me and there's nothing that can change that. Not even Tatum O'Connell. That girl is out of control, yet for some reason, I can't seem to keep my distance from her. I watch her closely, hoping that one day she'll let me in, but watching her lead her life down the dangerous path she's on right now isn't easy…
I have a feeling I'm about to find myself swept away by the hurricane that is Tatum O'Connell.
"Two fleeting souls,
Unknowingly tethered.
Too slowly drawn,
Impatient fate calls.
The jolting collide intertwines their lives
And splinters their walls."
"Catalyst" – Noah Reese
Christine's Review
Wow!  I love L.B Simmons books but this one was on all a whole other level.  I was sucked in right from the prologue and I will tell you now that her writing has not only grown since her previous books but this is an author to be on the lookout for!
Is it possible to love someone when you don't know if you love yourself?
This is a question, we the readers will ask ourselves while we read this beautiful and emotional book.  We met Noah and Tatum briefly in prior books and I couldn't wait to read their story and to find out more about their past.  We learn throughout the book the pain and suffering these two have gone through in their pasts that have shaped who they are today.
Tatum is a beautiful individual with a good heart.  Because of her past, she feels that she is undeserving of any kind of love and goes to great lengths to protect herself from getting hurt and putting on a front that she is ok.  Noah is perfect in every way – he is so controlled and smart and is well on his way to becoming a doctor to appease his controlling father.
When these two interact, they will try their hardest to maintain distance from one another not seeing that there is more to their relationship.  Noah is a gentleman and has a heart of gold.  He wants to protect her and to show her how beautiful she is – both inside and out.  He can see the real Tatum and wants to help her erase her past so she can move forward with self confidence, respect and to be able to open herself up to love.  Conversely, Tatum also feels protective of Noah and wants to stand by his side to face his demons.  Together, they are good for each other, they balance each other out, live for the moments and follow their hearts.
But will that be enough?  Will they be able to find themselves as individuals to be able to make themselves work as a couple?
You will have to read this book to find out.
Without giving away too much of the story and the outcome, I bonded with Tatum from the get go.  She was a strong individual to a certain extent but not without her flaws.  She tries to hide behind an illusion that she is ok all the while suffering from guilt, pain and heartache.  I LOVED Tatum's interactions with Noah.  Though they had their ups and downs in their relationship, to see her through his eyes made me love them even more as characters.  He showed her what she deserved and helped her realize her self worth.  Any man that could treat a woman like that and be a true gentleman is top notch in my book!
I also want to mention that I thought that the use of journal entries and music lyrics at the star to each chapter was brilliant.  L.B has an amazing gift of words, adding to the many layers of beauty and soul to these characters and to this story.
Seeing Harlow, Trace, Blake and Alex and the girls was like being reconnected with family.  Again putting a smile on my face and warmth in my heart to see what they were up to.
Another job well done!  I look forward to Harlow's story and can't wait to read more from you!
Favorite Quotes:
– You're just a little lost and you need help finding your way, that's all.
– Never settle for less than you're worth.  You don't give yourself enough credit.  Hopefully one day, you'll see what everyone else sees.
– It's just – I don't want to be fixed.  I want to be accepted, flaws and all.
– You inspire me to be a better person, to be a better man."
– Well, now I love and breathe you because you own me."
– "You re the light that led me out of my darkness."
Dream Cast and Trailer
*Dream cast: Alexandra Daddario (Tatum) and Bryant Dougherty (Noah)
*Trailer created by Heather Maven
About the Author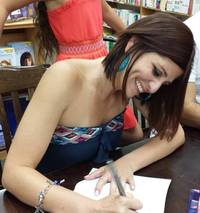 L.B. Simmons is a graduate of Texas A&M University and holds a degree in Biomedical Science. She has been a practicing Chemist for the last 11 years. She lives with her husband and three daughters in Texas and writes every chance she gets.

I had the perfect life. Beautiful and loving husband.Three gorgeous little girls. Successful career. The only thing missing was the white picket fence. I really wanted that fence. Three years ago, I lost that life. I lost my husband. And I lost myself. But, eventually, I found my way through the darkness. I've made peace with my new life. I have my girls, and that's all that matters. They are my world. I have no illusions of ever falling in love again or getting whisked away on a white horse. But then he came back into my life. On a freakin' motorcycle. There's no way I'll let him turn my life completely upside down.Absolutely no way. The question is… How long can I keep pretending that I'm happy with my life being right-side up?  
_______________________________________________________________
Recovery – a Novella (Book #1.5)
_______________________________________________________________