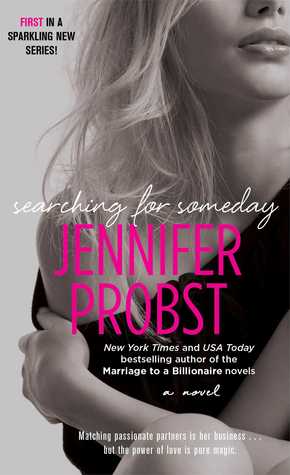 Enter for a chance to win 3 paperbacks of this book using Rafflecopter below!
Good luck!
---
4 STARS!!!
Synopsis
Kate has given up on love—at least for herself. She is both blessed and cursed with the ability to sense a romantic connection between two people—a gift that her family passed down for generations. When Kate launches her own matchmaking company, Kinnection, with her two best friends in a cozy New York town, she has to put aside her own romantic disasters to make her business a success.
But when a furious man stalks into her office and accuses her business of being a scam, Kate is given the ultimate challenge to prove herself. Slade puts himself in her hands and asks Kate to find him love. Enraged at his arrogance but stubbornly eager to prove herself, Kate agrees, dedicating herself to the journey of finding him love…only to find herself falling for him along the way.
Christine's Review
I have been a HUGE Jennifer Probst fan since her Marriage to a Billionaire series and I couldn't wait to dive into this spin off series.
Kate Seymour is the owner of Kinnections, a dating agency where she helps people find love and happiness.  Her special gift like no other matchmaker is her gift of sensing soulmates by a simple touch to determine if the electrical spark is there.  She has been successful in many of her matches however not with finding her own soulmate.
Jane Montgomery is a new client of Kate's looking for Mr. Right.  However her older, very protective brother Slade wants his sister to not have any part in this matchmaking "scheme" and signs himself up as one of Kate's clients so that Kate can prove his cynicism wrong.  You see, Jane went through some things when she was younger and Slade is doing his best to protect her from getting hurt again.
I LOVED watching Slade realize many things about himself in his interactions with Kate and that one should always believe in love and sparks and the possibilities of finding "the one."
The attraction between Slade and Kate was tangible and I could feel it coming out of my kindle.  I enjoyed the chase and even more so, I often asked myself if this is what fate feels like – that strong connection with someone that is so magnetic and strong.
So as both characters have walls built around their hearts, will they be able to break the rules to find out if their attraction could be more?  Can Kate stop running and let go to full enjoy life and find love for herself?
You will have to read this book to find out!
I enjoyed this sweet and very sexy book from Ms. Probst.  At times, I was frustrated with Kate because I felt that she was denying herself her happiness with all of her resistance.  I understood where she was coming from but I wanted to cry because of missed opportunities.  Waiting for them to completely surrender themselves to each other was hard because I could feel their constant hurt.  In life there are no guarantees – so why waste time – enjoy life, live, love and feel!  I thought Slade was hot and demanding and completely sexy!  If it were me, he would definitely be hard to resist 🙂
What I enjoyed most was seeing the characters from the Marriage to a Billionaire series.  I thought that they were interwoven into the story quite nicely and it was like spending time with old friends as they have progressed in their lives.  It was fun to spend some time with them.
I definitely found myself laughing at some moments and smiling at my kindle.  Jennifer writes emotions, connections and attraction among her characters so well.  It oozes from the pages, warms your heart all the way to your toes.  It's like a warm blanket engulfing you in emotion and love and it feels oh so good.
Another job well done – with some of the stories that were happening in the background throughout the book, I am definitely looking forward to meeting and learning about some of these interesting secondary characters <3
About the Author

Jennifer Probst wrote her first book at twelve years old. She bound it in a folder, read it to her classmates, and hasn't stopped writing since. She took a short hiatus to get married, get pregnant, buy a house, get pregnant again, pursue a master's in English Literature, and rescue two shelter dogs. Now she is writing again.
She is the NYT and USA Today bestselling author of The Marriage Bargain. She is published both erotic and sexy contemporary romance with Entangled, Decadent, Red Sage and TWRP. She has also written a children's book, Buffy and the Carrot, co-written with her twelve year old niece, along with a short story, "A Life Worth Living." Visit her website for more info!
---
GIVEAWAY
a Rafflecopter giveaway
BUY IT HERE