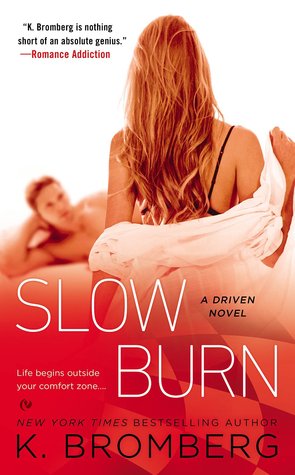 Slow Burn

by K. Bromberg
on February 24, 2015
Pages: 400
Buy on Amazon
Goodreads


From the New York Times and USA Today bestselling author of the Driven series. 

One Night. That's all it was supposed to be.

Reeling from the sudden loss of her sister, Haddie Montgomery has sworn off relationships. All she wanted from Beckett Daniels was a sexy distraction to help her escape her pain for just a little while....There weren't supposed to be any strings attached—so why can't she shake the memory of that unforgettable night from her thoughts? Or the taste of his kiss from her lips?

No matter how hard Haddie tries to forget about him, Becks relentlessly tries to prove that she should start living for today. But she is determined to avoid romantic commitment, and she can always use her ex-boyfriend's reappearance to help snuff out the slow burn within her that Becks has sparked....

Or will fate force her to realize that this kind of connection doesn't come along very often and a chance at love is worth the risk?
Slow Burn is the story of Haddie Montgomery and Beckett Daniels.
Though readers met Haddie and Beckett in The Driven Series, this book truly is a stand alone.
Rylee and Colton, the stars of the Driven Trilogy, make wonderful secondary characters in this book!
From the opening of the book, it is clear the Becks wants Haddie but not just for the sex she is willing to give; he wants all of her: "I want you strung so goddamn tight, you beg me to f&ck you, beg me to own you."
This book is emotional and well, I loved Beckett! I love a man who knows what he wants and who fights it! And Becks knows he wants Haddie.
"Run all you want, Haddie…but you're going to find yourself all tangled up in those dangling ends you refuse to tie to something ..Whose going to rescue you then?"
Slow Burn has an outstanding use of secondary characters. Danny, Haddie's brother in law, hurts were epic and woven masterfully into the story. Also, Trisha Daniels, Beckett's Mom was so full of love. Here is a wonderful example of Trisha at work: "It's okay to use my boy when you need strength. His back won't break if you do, but his heart just might if you don't"……"My Becks here is a good man… I'm all for him ruining your lipstick, but if he ruins your mascara, you need to come let his mom know so I can put him back in his place."
Trish's pink flip flop obsession was adorable – again not telling read the book!
Ms. Bromberg is a master of catch phrases; these are so eloquently tied to the emotions in the book that just the mention of them after reading will evoke emotion from the reader.
This line will stuck with me for a long time to come! "Time is precious….. Waste it wisely" and "Hearts and heels" and "Haddie Maddie"…my heart… just typing them pulls me right back into the book.
The addition of Walker, Beckett's younger brother, made for some witty and grin from ear to ear moments.
"Becks…you're sitting over there with your  eyes closed, a stupid-ass smirk on your face, and you're adjusting your dick every five fucking seconds."
"So either you're remembering getting luck- and it seems like it was a good lucky- or else you're having some kind of pornographic wet daydream, and if that's the case, you're a sick fuck since you're doing it while I'm sitting right here."
As Becks and Haddie make their way to each other, life throws them a curve ball and I want to sometimes throttle Haddie for her reaction to this. It was so well done.  I did love Becks so much for his reaction!
The party scene was epic!! I will not tell you what the party is for; read the book for that! It is so powerful and such a testament to Beckett's unconditional love and support! Every woman deserves a man who loves her like this!
Thank you Ms. Bromberg for a book about the power of love and the beauty that comes from taking what life gives you and pushing forward to a happy to grab a hold of!
♥READ THE SERIES♥
Book 1 – Driven
Book 2 – Fueled
Book 3 – Crashed
Book 4 – Raced
Book 5 – Slow Burn