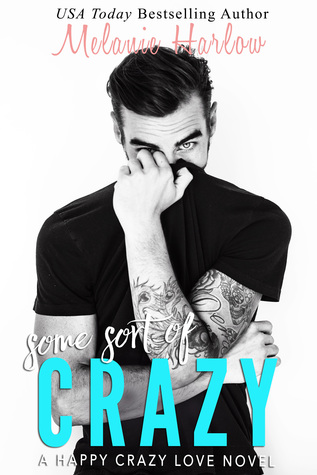 Some Sort of Crazy

by Melanie Harlow
on November 17, 2015
Buy on Amazon
Goodreads


When a psychic tells Natalie Nixon her life is about to be upended by a mysterious stranger, she laughs it off. After all, she has everything she's ever wanted—the dream job running her own business, the dream boyfriend about to propose, the bank loan to buy her dream house, complete with dream picket fence. Who could possibly make her want to throw all that away?

Then Miles Haas comes back to town.

But he's no stranger—they've been good friends since high school. Plus, he's only around for the summer, he's still a shameless playboy, and he makes a living writing articles for a men's magazine with titles like "Should You Bang the Boss's Daughter? A Flowchart" and "Butt Stuff for Beginners: A Field Guide."

He's not the man of her dreams, and she's not about to abandon everything she's worked so hard for just to run away with him…or is she?

**SOME SORT OF CRAZY is a full-length romance complete with HEA.**
A night out celebrating with sisters leads to a psychic reading that changes everything.
Natalie Nixon has a seemingly perfect relationship with her boyfriend of 10 years, but it's a comfortable relationship..and honestly a little boring. When the psychic tells Natalie and her sisters their future, she can't help but feel skeptical when she is told that her life will change because of a mysterious stranger that will come into her life because she's happy and she's ready for that next step with her boyfriend Dan…or so she thought….
Enter Miles Haas. He's back home and he's no stranger since they have known each other since high school. The relationship between Natalie and Miles is that friend you have known forever, that friend you were thick as thieves with growing up until he left for college leaving behind a lot of unanswered questions between them.
Miles and Natalie haven't seen each other in 9 years but their deep friendship, the bond between them and the chemistry is apparent to the reader. Miles is a writer, a sex addict and is sexy as hell. Many a times, with his words alone, he put a smile on my face. Miles could be that guy to show Natalie new experiences and what she is missing in her life. And Natalie could be the one to finally get this non-dater to settle down and love…well if both are willing to grow up, accept their feelings, and open their hearts and minds to the many possibilities that are right in front of them.
So how will it go? Was the psychic reading right or wrong? Are you a skeptic too???
Well you will have to read this book to find out because I am not telling you! 🙂
I will say this…this is my second book to read by Melanie Harlow and I truly enjoyed it. Ms. Harlow has the ability to write romantic, heartwarming, emotional and sexy and Some Sort of Crazy is the complete package. This is a story about two people maturing and finding their ways while finding the path to a love that they both deserve. Told in both character's POV, I loved being in each of their heads because I love knowing what everyone is thinking and feeling and for me, this made the experience all the more wonderful. Friends to lovers is another one of my favorite tropes that I enjoy reading and Ms. Harlow knocked it out of the park.
I can't wait to see what she has in store for us next!

♥ READ THE SERIES ♥
Book 1 – Some Sort of Happy (Skylar and Sebastian)
Preorder Book 2 – Some Sort of Crazy (Natalie and Miles)