by Christina Lauren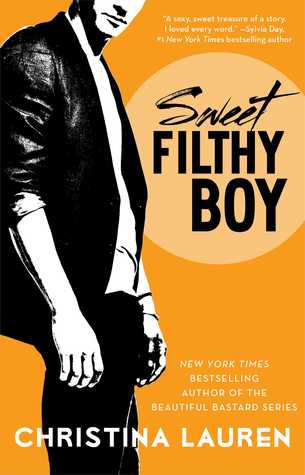 Enter for a chance to win 3 paperback copies of Sweet Filthy Boy from the publisher using Rafflecopter below. Good luck!!!
---

One-night stands are supposed to be with someone convenient, or wickedly persuasive, or regrettable. They aren't supposed to be with someone like him.
But after a crazy Vegas weekend celebrating her college graduation—and terrified of the future path she knows is a cop-out—Mia Holland makes the wildest decision of her life: follow Ansel Guillaume—her sweet, filthy fling—to France for the summer and just…play.
When feelings begin to develop behind the provocative roles they take on, and their temporary masquerade adventures begin to feel real, Mia will have to decide if she belongs in the life she left because it was all wrong, or in the strange new one that seems worlds away.
This is my first book by the writing duo Christina Lauren; I know I know I am late to the party but like many of you my to read list is super long and since Christine reviewed these authors Bastard Series for Shh Mom's Reading I just never seemed to find the time to read that series.
Well, I must say that I loved their writing style and this will definitely not be my last book by this duo as this series is now on my MUST READ list.
I thoroughly enjoyed the story of Ansel Guillaume and Mia Holland. As the blurb states this story starts out a crazy last weekend of fun in Las Vegas for Mia and her friends after graduating college but becomes so much more.
I loved loved the use of Mia's backstory to make this story believable. Ansel seems to truly understand Mia; his ability to pick up on her love of performing and the use of it in the story was masterfully woven into the plot (no I am not telling you what I mean by this – read the book).
I think the thing I loved most was this book was not all hearts and flowers; the authors paint a portrait true to a young attorney's life. He can't put everything on hold just because of a new person in his life, even if he might be falling in love with this person.
Mia and Ansel struggle to work through the demands of Ansel's corporate job and to find a way to get to know each other amongst both of these young adults working to find their way in the world was so well done.
As the book comes to a conclusion the reader knows something is going to happen as you know Ansel is hiding something or rather someone. The unraveling of his secret was well done and I adored the use of it as it was a catalyst to push Mia to grab ahold of her life and decide what she wants.
The what Mia wants out of life I loved!  Though I was left wanting just a bit more from the end of this book, I truly did love Ansel and Mia's story.
I am very much looking forward to book 2 Dirty Rowdy Thing and I can't wait to catch up with Mia and Angel again soon!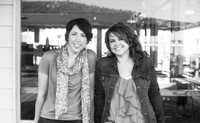 Christina Hobbs & Lauren Billings write under the combined pen-name of Christina Lauren. Separated by the pesky state of Nevada, these co-author besties talk several times a day, agree that Ruby Pumps is the best nail polish color ever, and would, if given the choice, spend all day staring at the ocean from the San Clemente pier.