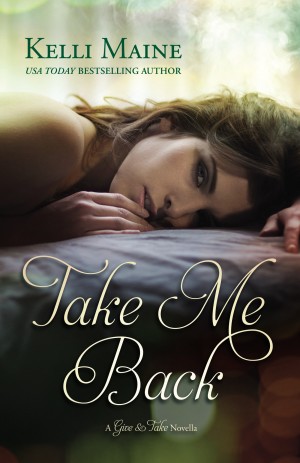 HAPPY RELEASE DAY to Kelli Maine and her newest novella Take Me Back!
---
4 STARS!!!
Synopsis
In the bestselling tradition of Sylvia Day and E. L. James…
A Give & Take Novella
DESIRE THAT CAN'T BE DENIED
Rachael DeSalvo is haunted by the past. She's come home to her beloved Turtle Tear Island, where she looks forward to happy days and bliss-filled nights in the arms of Merrick Rocha. But when she finds a trunk full of old photo albums and handwritten notes, Rachael soon realizes that the island has not given up all its secrets . . .
For long before Rachael and Merrick made Turtle Tear Resort their home, this historic island was a haven for sensual, forbidden affairs. As Rachael and Merrick work to restore the grand hotel to its former glory, they will be caught in the perfect maelstrom of conflict and desire.
Christine's Review
Take Me Back starts off where Taken by Storm left off.  It's been some time since we have been in Merrick and Rachael's head so I am happy for this novella to see them again.
In restoring the old plantation house, Rachael encounters a trunk filled with many secrets and mysteries of the islands past inhabitants, Archibald and Ingrid Weston.  Their love was a love like no other and Rachael is both fascinated and obsessed to learn more about them.
Ingrid's soul wants to return to Turtle Tear Resort and Rachael will do anything to get her back there.  Rachael and Merrick are at odds with Rachael's obsession but Rachael feels a strong connection to Ingrid.
"Merrick has never understood why he…well, how we came together like we did, but I know why."  I tear my eyes from my reflection and find Maddie's.  "Fate.  He and I are supposed to carry on the tradition of Turtle Tear.  Carry on what comes next."
And though I understand Rachael's need to bring this spirit home where she belongs, I am frustrated with her as she becomes so obsessed that this may break her strong love and connection with Merrick and her family.  Everything she is working on has now taken back seat and she is affecting many people around her.  It was almost TOO selfish and made my heart break to see cracks in their relationship.  I never questioned their love for each other but would have loved to see Rachael talk to Merrick more so that there wouldn't be so much tension and miscommunication and lying.
Will Rachael lose Merrick forever?  Will Ingrid the ghost ever make it back home to Turtle Tear?  And what lessons will this couple learn to make their relationship even stronger and better than before?
You will have to read this book to find out!
I love Kelli's style of writing in this series which is different than what I have been reading.  I love this cast of characters and look forward to learning even more about them and where Kelli will take them next.  I love seeing MJ and Maddie and can feel their happiness.  I am also interested in reading more about Beck and what his story is and what the future holds for him!
This was a quick read and a good addition to the Give & Take series.  Look forward to more!
You can find Kelli Maine at:
---
GIVEAWAY
a Rafflecopter giveaway