Following is Christine's reviews of books .5, 1 and 2 of The Artists Trilogy by Karina Halle. To say that this was something that I did not expect is an understatement. This series blew me away and I CAN NOT WAIT for book 3 to find out what happens next! If you have not read a Karina Halle book, you MUST add these books to your TBR list ASAP! These books were simply AMAZING!!!!! Thank you to the publisher for contacting me for a review!!! <3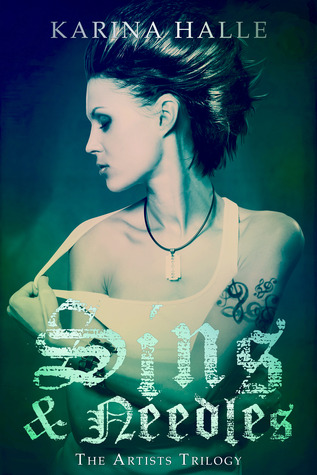 Book 1 – Sins and Needles Synopsis
Ellie Watt is used to starting over. The daughter of a grifting team, Ellie spent her childhood being used as a pawn in her parents' latest scam. Now she's much older, wiser and ready to give her con artist life a rest. But returning to the dry desert town of Palm Valley, California means one more temptation than she bargained for – Camden McQueen. Once known as the high school weirdo, Camden is bigger and badder than the boy he used to be and a talented tattoo artist with his own thriving business. Ellie's counting on Camden still being in love with her but what she's not counting on is how easily unrequited love can turn into obsession over time. When Camden discovers Ellie's plan to con him, he makes her a deal she doesn't dare refuse, but her freedom comes with a price and it's one that takes both Ellie and Camden down a dangerous road.
***The Artists Trilogy is a dark and sexy contemporary ride about three flawed individuals caught in a world where it's so easy to justify the bad things we do. This is a pure adult read (Not YA or NA).
This is the 1st book in the trilogy. It is followed by the novella On Every Street (released in March 2013) and the sequel Shooting Scars (released in May 2013). The third and final book in the series will also be released in 2013.***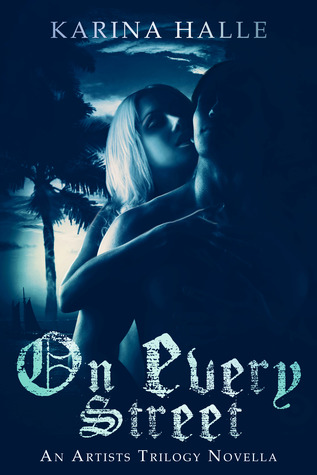 Book .5 – On Every Street Synopsis
When young con artist Ellie Watt decides to call herself Eden White and go after the drug lord who ruined her as a child, she never expects to fall for one of his henchmen. But Javier Bernal is no ordinary man. Subtly dangerous and overwhelmingly seductive, Eden finds herself passionately in love with Javier, the very person she's set-up to betray. With her body and heart in a heated battle against her deep need for revenge, no one will walk away from this con a winner.
This 50K word (100+ pages) novella takes place six years before Sins & Needles. It can be read before or after Sins & Needles and may also be read as a standalone.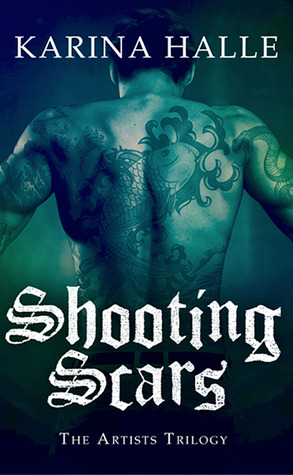 Book 2 – Shooting Scars Synopsis
Sometimes the right choice can be the deadliest.
When Ellie Watt made the ultimate sacrifice for Camden McQueen, she never thought it would be easy. But walking away with her ex-lover, Javier Bernal, in order to ensure Camden's safety has brought a whole new set of dangers. With Javier's plans for Ellie growing more secretive by the moment, Ellie must find a way to stay ahead of the game before her past swallows her whole.
Meanwhile, Camden's new life is short-lived. Fueled by revenge and pursued by authorities, he teams up with an unlikely partner in order to save Ellie. But as Camden toes the line between love and retribution, he realizes that in order to get back the woman he loves, he may have to lose himself in the process. He might just turn into the very man he's hunting.
Told in dual POV from Camden and Ellie.
---
Christine's 5 STAR Review
Wow!  I am not even sure where to begin.  This was a series I have been dying to read for quite some time hearing such wonderful things from both authors and friends who have read Ms. Halle's series.  When the publisher contacted me to read and I saw that my vacation was coming up, I jumped on the chance to read this series and I am so glad that I did!
This series was captivating to say the least – it was exciting, entertaining, and kept me on the edge of my seat throughout.  I read the three books in a matter of three days and am salivating for the next in the series.  Thankfully it will be releasing soon!  These are not the typical books that I have been reading lately and I am so glad that I took a chance because it was well worth the journey to experience everything these cast of characters have gone through, to be in their shoes and to actually feel the tangible love, hate, need for revenge and to understand what was going on in their heads – Ms. Halle did an AMAZING job capturing it all and I commend her for it!
I didn't read any reviews going in so will try to leave out any spoilers while I tell you what my experience was going into this series.
In Sins & Needles, we meet confident and strong Ellie Watt.  Ellie grew up with a hard past and as a thief as her role model parents were grifters and it was the only life she ever knew.  At 26 years old, she is finally trying to start her life over on the straight path.  Returning to her hometown in California, Ellie runs into hot tattooed Camden McQueen, a friend from her past and her thieving ways return as she is already thinking of ways to con him for his money rather than actually working and making money honestly for a living.  I enjoy the alternating past and present POVs and seeing Ellie and Camden's history.  It didn't end well when they were younger and some things were never forgotten.  There is an obvious attraction between them that is undeniable but then something happens that SHOCKS me like no other making me realize that sometimes people can't forgive and forget.  Sometimes people hold onto their anger and the only think that they can think of is revenge.  But revenge isn't always so sweet and with a life on the run and a threat from the past searching for Ellie, can two broken people really fall in love, forget the past and realize that they are worthy of finding happiness and love?  Or are lies the only way that they can live their lives?  
Favorite Quotes:

"I hate you, Ellie Watt," he whispered, lips coming closer to mine, "because I still love you after all these years."

We all make our own paths in life.  Everyone we meet, everything we do, it changes us.  It makes us who we are.  And, if we're lucky, we're given the chance to make things right again."
I chose to read On Every Street following Sins & Needles, as I wanted to learn the history of Ellie's biggest threat from the past – Javier Bernal, her old lover.  On Every Street is actually the prequel but I enjoyed reading it in this order to see how it all began with Javier.  I'm not going to lie and admit that I was completely nervous going into this book.  I didn't want to experience Ellie's life with Javier as I was totally Team Camden.  In this book, Ellie is so hell bent on seeking revenge for what was done to her as a child when I all I wished for her was to focus on her future.  I wanted her to have a life better than her parents.  Revenge doesn't often make someone feel better – it fills you in that moment but it's fleeting and doesn't last long.  Watching Ellie open herself up to Javier makes me question what is real and what is not.  He's supposed to be her mark, her target – a means to get to the revenge she seeks.  It surprises me that though I wanted to hate him that I actually found myself liking Javier quite a lot.  Ellie shows her vulnerability and broken side in this installment of the series.  And I can't stop my mind from continuously asking – is this real?  Or is this a continuation of the lies?  Is the heart and mind playing games and is this just an endless cycle for Ellie and Javier?  What will happen next?!  Ahh!!
Shooting Scars picks right back up where Sins & Needles left off and we experience the full effect of the Ellie's sacrifice to go with Javier in order to protect Camden, the man that she loves.  While we watch Ellie's life continue with Javier, Camden is working with Gus to try to save her.  I'm still confused about my emotions about Javier.  We see what happened from his side when he betrayed Ellie in On Every Street and need I say that I have a soft spot for him in my heart.  Their interactions are tangible and seemingly real though I do feel that he is playing with her vulnerabilities to use her for his own plan.  This installment of the series was exciting and suspenseful and I found myself holding my breath throughout.  There were moments I felt betrayed but ultimately I felt sadness for these tortured souls.  And with that cliffhanger ending, I cant wait to see what happens next.  Will Camden be able to save Ellie and vice versa?  Can happiness be found for these broken people?
Karina did an AMAZING job with this series  and I just wanted to send a big THANK YOU for allowing me to read and review it for you.  It was an emotional roller coaster – it was breathtaking and chock full of non-stop action that left me wanting more!  Job well done!!! <3 <3
About the Author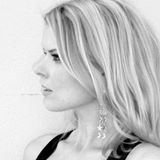 Karina is represented by Scott Waxman of the Waxman Leavell Literary Agency
The daughter of a Norwegian Viking and a Finnish Moomin, Karina Halle grew up in Vancouver, Canada with trolls and eternal darkness on the brain. This soon turned into a love of all things that go bump in the night and a rather sadistic appreciation for freaking people out. Like many of the flawed characters she writes, Karina never knew where to find herself and has dabbled in acting, make-up artistry, film production, screenwriting, photography, travel writing and music journalism. She eventually found herself in the pages of the very novels she wrote (if only she had looked there to begin with).
Karina holds a screenwriting degree from Vancouver Film School and a Bachelor of Journalism from TRU. Her travel writing, music reviews/interviews and photography have appeared in publications such as Consequence of Sound, Mxdwn and GoNomad Travel Guides. She currently lives on an island on the coast of British Columbia where she's preparing for the zombie apocalypse with her fiance and rescue pup.
BUY THE BOOKS HERE!
Book 1 – Sins and Needles