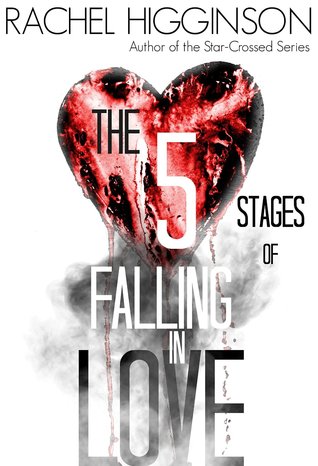 The Five Stages of Falling in Love

by Rachel Higginson
on January 7, 2015
Buy on Amazon
Goodreads


The Five Stages of Falling in Love is a Contemporary Romance.
Elizabeth Carlson is living in the pits of hell- also known as grief.

Her husband of eight years, the father of her four children and the love of her life, died from cancer. Grady's prognosis was grim, even from the start, but Liz never gave up hope he would survive. How could she, when he was everything to her?

Six months later, she is trying to pick up the pieces of her shattered life and get the kids to school on time. Both seem impossible. Everything seems impossible these days.

When Ben Tyler moves in next door, she is drowning in sorrow and pain, her children are acting out, and the house is falling apart. She has no time for curious new friends or unwanted help, but Ben gives her both. And he doesn't just want to help her with yard work or cleaning the gutters. Ben wants more from Liz. More than she's capable of ever giving again.

As Liz mourns her dead husband and works her way through the five stages of grief, she finds there's more of her heart to give than she thought possible. And as new love takes hold, she peels away the guilt and heartache, and discovers there's more to life than death.
The Five Stages of Falling in Love is an amazing standalone romance about the power of love, the depth of grief, the all encompassing affects of parenthood and in the end the beauty of a great man. Yes, I LOVE Ben Tyler.
The blurb tells the readers that this story is about Elizabeth Carlson, and Liz's grief. The book is about her life now that Grady, her husband of 8 years, has passed on from cancer, leaving Liz with 4 small children.
The prologue of this book is so powerful and even though based on the blurb you know it is coming, it still had a my heart in my throat and tears in my eyes. Hats off to Ms. Higginson for pulling the reader right into this story.
Liz meets her neighbor, the already mentioned Ben Tyler, in an adorable set of circumstances that sets up just how challenging it is to be the single mom of 4 children; children struggling each in their own way to deal with the loss of their father. I want to pause here and say the author pulls the reader into the children's pain; she masterfully managed to allow each to grieve in their own way; sometimes with tears, sometimes with screaming and sometimes with humor, all of which felt real to the story.
Ok back to Liz and Ben; I don't want to give much away here but I will say I loved Ben Tyler, oh wait I already said that. Ben is patient and kind and truly accepting, not just of Liz and her pain, but of Liz's love of Grady and most importantly of his feelings for her and her children. I adore how Ben just knew this was where he was meant to be.
Liz and Ben's journey is beautiful to watch unfold; the friendship they develop lays the foundation for a forever that the reader can feel in their soul.
I will not tell you how they get to their happy but I will say when I had to put this book down to live my life, I was somehow stuck in the book. I couldn't seem to focus and I needed to get back to the book. Even when I knew I was reading with tired eyes, I could not put it down. So yes, I did end up reading the last part of the book again the next day!
This book truly is a story about "it's not what life gives you but what you do with it."
Thank you, Ms. Higginson for a story and characters that will live in my heart!