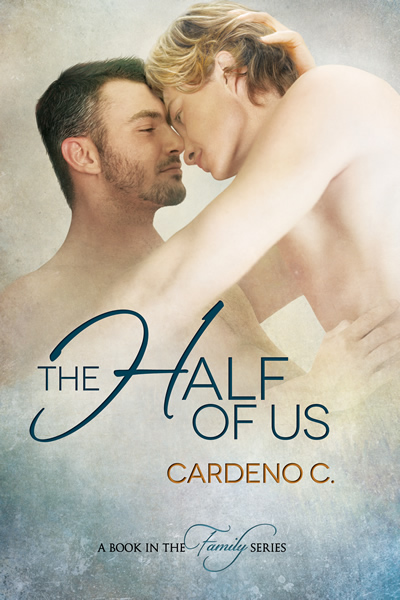 The Half of Us

by Cardeno C.
on October 10, 2014
Goodreads


Short-tempered, arrogant heart surgeon Jason Garcia grew up wanting a close-knit family, but believes he ruined those dreams when he broke up his marriage. The benefit of divorce is having as much random sex as he wants, and it's a benefit Jason is exploiting when he meets a sweet, shy man at a bar and convinces him to go home for a no-strings-attached night of fun.

Eight years living in Las Vegas hasn't dimmed Abe Green's optimism, earnestness, or desire to find the one. When a sexy man with lonely eyes propositions him, Abe decides to give himself a birthday present — one night of spontaneous fun with no thoughts of the future. But one night turns into two and then three, and Abe realizes his heart is involved.

For the first time, Abe feels safe enough with someone he respects and adores to let go of his inhibitions in the bedroom. If Jason can get past his own inhibitions and open his heart and his life to Abe, he might finally find the family he craves.
This book can absolutely be read as a stand alone; the Family series is about the story's theme not the characters; if you love gay romance where the men are meant to be together; where you can feel the attraction through the pages, then I highly recommend you 1-click The Half of Us now!
The Half of Us is the story of heart surgeon Dr. Jason Garcia; yes think ego and Abe Green; I will not tell you Abe's profession because the how this ties into the story was too much fun experiencing while reading it; so I don't want ruin it for the reader.
I loved that I got to know these men while they got to know each other; CC bonded these men with rich dialogue, dialogue that came as Jason slowly opened up to Abe.
Witnessing Abe opening up in the bedroom, feeling so comfortable with Jason was hot and endearing. You think Abe is the shy one to Jason's big personality but then they come together Abe's opening up makes him even more desirable to Jason (and the reader).
I adored how the changes in Jason were because of Jason, Abe never pushed. Jason wanted Abe, he wanted to be more for Abe; he wanted to be with Abe and he slowly made more and more room for Abe in his life.
The use of Jason's cousin Asher and ex-wife to get Jason to embrace what was happening between he and Abe was really well done. And Jason's children played pivotal roles in this story; a story about a Dad, a man who was so alone, alone until Jason opens his heart to Abe. Jason's opening up allows him to see all he was missing in his life.
Jason's journey was so powerful, in the end he knows he wants Abe in his life and he starts to fear what if Abe does not want this; this is such growth for Jason!
Jason's children play another pivotal role toward the end of the book, it was so well done. And in the end the way Jason folds Abe into his family, the family Jason wasn't sure he would ever have was powerfully poignant.
Jason learned that family is about love; the kind of love that grabs your heart, makes your toes tingle, and is all encompassing.
Thank you CC; this story warmed my heart, touched my soul and made me believe in love!

♥READ THE SERIES♥
Book 1 – Something in the Way He Needs
Book 2 – Strong Enough
Book 3 – More Than Everything