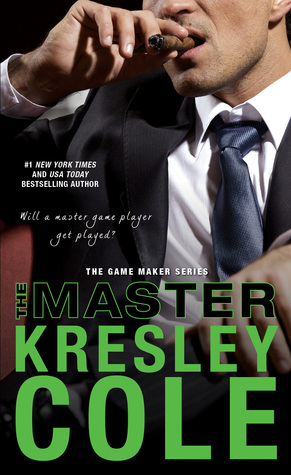 The Master

by Kresley Cole
on February 17, 2015
Pages: 448
Buy on Amazon
Goodreads


A need colder than Siberian winter meets an attitude hotter than the Florida sun in #1 New York Times bestselling author Kresley Cole's sultry new Game Maker novel.

Everyone fears the Master…

Rich, irresistible politician/Mafiya boss Maksimilian Sevastyan prefers tall, obedient blondes to fulfill his…complicated desires. That is, until the icy Russian encounters a disobedient brunette whose exquisite little body threatens his legendary restraint.

Except her.

Catarina Marín was a well-off young wife until her world fell apart. Now she's hiding out, forced to start working as an escort in Miami. Her very first client is beyond gorgeous, but when he tells her what he plans to do to her, Cat almost walks out of the door.

If pleasure is a game, play to win.

After their mind-blowing encounter burns out of control, the lovers crave more. If they escape the deadly threats surrounding them, can Maksim overcome his past—to offer Cat his future? Only then will she tempt him with what he really wants: her, all tied up with a bow.
Let it be known that I LOVE anything written by Kresley Cole. I fell in love with her Immortals After Dark series (Paranormal Romance) and she has never disappointed with her amazing storytelling skills, her phenomenal writing and characters and her ability to captivate her readers and pull them into her books. Ms. Cole is a definite must click author for me!
Truthfully I have been in a little bit of a book slump lately. Being in a book slump, makes me really sad and depressed as I am always on the lookout for my next great read. The Master was sent to me at the best time and boy can I say that I devoured this book in 2 days. Sexy, suspenseful and fun…The Master is panty dropping hot as Ms. Cole completely ensnared me (mind and body!) into a steamy and erotic romance between the rich, irresistibly HOT politician and Mafiya boss Maksimilian Sevastyan and Catarina Marín, an escort with a secret past, whose strength, beauty and smarts completely mystifies the man who was never looking for love but has finally met his match in every way.
I do want to note that you don't need to read book 1, The Professional, to dive into this book as I didn't read the prior book. But I will say that now having met my first Ruso, that I am DYING to go back to meet his brother (so stay tuned for a review of The Professional when I can squeeze this book in to my crazy reading schedule!)
So what's it about??
Cat Marín is not your typical girl – she is Latina, curvy and empowered. Oh and she is a first time escort. Cat has a past; one that the reader will learn and experience as they delve deeper into this book. But the one thing to note is that she is a survivor. I adored her character completely.
When Cat meets Maksimilian for the first time – just WOW! Their attraction and heat are simply undeniable. But besides the hot sex, here is a woman who challenges this tough guy mafia Russian for the first time. She is a spitfire and puts him in his place. And I love that about Ms. Cole's heroines. She always gives them a voice, she gives them strength – this is one of the many things that Ms. Cole does masterfully with her writing and her books. My list of things can go on and on 🙂
There is a lot of mistrust between Cat and her Ruso. But despite this, the Ruso wants to get to know Cat and he breaks his rules by keeping her with him for longer than a night, by buying her things that imply that there may be a potential for more, by opening up his mind and his heart and his life to her by revealing the man he is behind the politician/mafia boss.
And as I continued through this book, loving every interaction between them – the back and forth/the push and pull, the love and war – I couldn't help but think that fate played a part in having these two meet because they were the ones who would eventually save each other – save each other from their pasts, heal the brokenness and that just maybe life could be sweet for them both. I enjoyed the smiles, the laughs – so endearing and heartwarming. I wanted to cry from the feelings of such deep love, admiration and protection. I just wanted them to work out!
But would these two be able to overcome all of their past obstacles to move forward to the future with love, trust and a forever? Well, you will have to read this book to find out! There is suspense woven into this book with Cat's past and I thought this was done so well as it added another layer to this book and to this story. I felt as if I was in the story, always looking behind my shoulder for that past that I felt would catch up to them, that could potentially hurt them and their future.
Never have two characters been more in sync and more perfect for each other and I loved being on this journey – the epilogue was complete perfection! I encourage anyone who loves a great read, who loves Ms. Cole's writing, and who wants a panty melting, jaw dropping story to look no further than The Master. You will fall in love with these characters just as much as I did. I look forward to more stories from Ms. Cole! So so good! <3
♥READ THE SERIES♥
Book 1 – The Professional
Book 2 – The Master