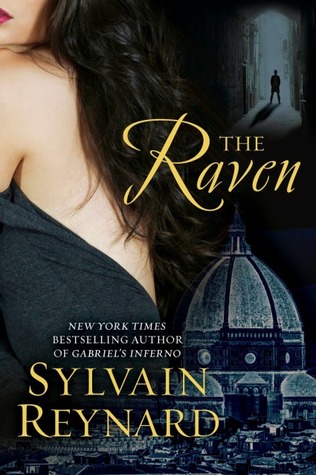 The Raven

by Sylvain Reynard
on February 3, 2015
Pages: 496
Buy on Amazon
Goodreads


From the New York Times bestselling author of the Gabriel Series comes a dark, sensual tale of romance in a city shrouded in mystery…

Raven Wood spends her days at Florence's Uffizi Gallery restoring fine works of Renaissance art. But an innocent walk home after an evening with friends changes her life forever. When she intervenes in the senseless beating of a homeless man, his attackers turn on her, dragging her into an alley. Raven is only semi-conscious when their assault is interrupted by a cacophony of growls followed by her attacker's screams. Mercifully, she blacks out, but not before catching a glimpse of a shadowy figure who whispers to her…

Cassita vulneratus.

When Raven awakes, she is inexplicably changed. She returns to the Uffizi, but no one recognizes her and more disturbingly, she discovers that she's been absent an entire week. With no recollection of the events leading up to her disappearance, Raven also learns that her absence coincides with one of the largest robberies in Uffizi history – the theft of a set of priceless Botticelli illustrations. When the baffled police force identifies her as its prime suspect, Raven is desperate to clear her name. She seeks out one of Florence's wealthiest and elusive men in an attempt to uncover the truth about her disappearance. Their encounter leads Raven to a dark underworld whose inhabitants kill to keep their secrets…
Happy Release Day to Sylvain Reynard and The Raven!!! We LOVED this book! Make sure to enter the giveaway below! Good luck!
Sylvain Reynard NEVER disappoints! Thrilling, captivating and heart warming good…The Raven is so different than the Gabriel series but so so so good!
I love a paranormal read in between all of the NA or Contemporary Romance books I read – it gives me a nice change and something different. I ALWAYS read paranormal when I became an avid reader years ago so coming back to it is always an exciting treat for me.
The Raven picks up two years following the novella The Prince and follows the story of Raven Wood, a woman who works at the Uffizi Gallery restoring priceless art. Raven is unnoticeable within society as she is slightly overweight and walks with a limp because of something that happened to her as a child. But she is happy in her new life in Florence with her small circle of trusted friends doing the things that she loves.
The Prince (aka William York) we met in the prior novella and know that he is vampire, having ruled the city of Florence for 700 years, fighting a continuous war for power over the hundreds of years that he has been alive. Few things have ever touched his life until he comes face to face with Raven and saves her from her death. For the first time, she is noticed by someone and though not your average human in society, I couldn't be more captivated by their bond.
Raven is a good person; her strength and wit, a shining star in the darkness of war and death. William and Raven's connection and attraction are palpable and I adored this side of the Prince – after years of hardship, we finally get to see another side of him, a soft side that is almost human after many years of being alone. To me, they need each other to fully complete their lives and their hearts. William really touched my heart with his care for Raven and his protection and he really charmed me to watch him slowly change and to allow this woman into his heart and life. He honestly made my heart want to sing from his romantic gestures <3
What Sylvain does that is so special is write so eloquently and beautifully. With the ability to mesmerize and captivate the reader with each successive story, The Raven was no different and is a true gem in my eyes. Sylvain writes poignant stories filled with beauty, emotions and sex appeal. And I'll be honest and say that having no knowledge of the art and paintings mentioned in the story that I did do a Google search to get a better sense and it really heightened my reading experience to be able to visually see the paintings and art discussed and it really brought my experience to another level to be able to see the beauty, to experience the intensity – in a word all of it combined together was simply magical.
The Raven is book 1 in The Florentine series and I am beyond excited to dive in and experience more – more romance, more mystery and more drama and to find out if in the end, love will truly triumph over the evil. I love PNR and Sylvain did an outstanding job!
 ♥READ THE SERIES♥
Book .5 – The Prince
Book 1 – The Raven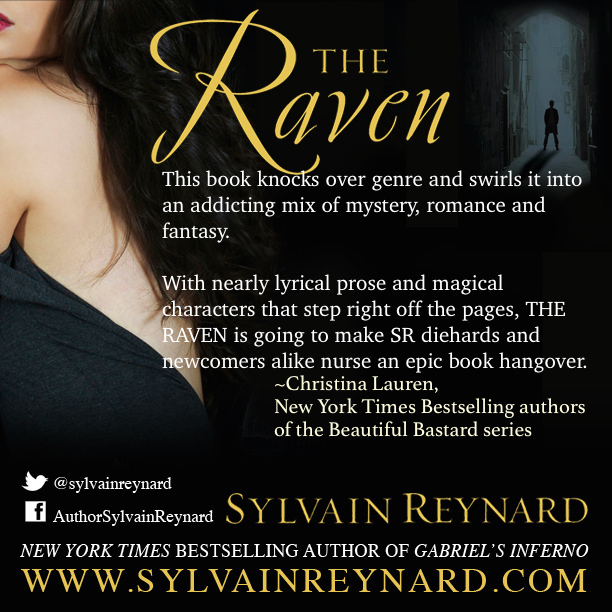 We are giving away a paperback copy of this book (open to U.S. residents only)! Enter for a chance to win by sharing the link to this post on your social media sites (FB, Twitter, Tsu, Instagram, etc) and wishing Sylvain Reynard a Happy Release Day on Facebook or Twitter @sylvainreynard (please make sure to copy us @shhmomsreading) and post your Release Day post below too. The more shares, the more chances to win! Leave a message at the bottom of this post with the links to your shares. ONE WINNER will be chosen on Friday February 6th at 10am EST. GOOD LUCK!