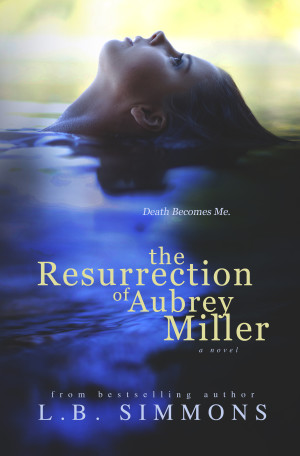 Enter for a chance to win an ebook giveaway of this book – 3 copies up for grabs!!! Good luck!
---

Sometimes death isn't the end. Sometimes it's a beautiful beginning…
Death.
For some, it's simply one of life's certainties, nothing more. For others, it's merely a fleeting thought, one often overshadowed by the reckless delusion that they have been blessed with the gift of immortality.
For Aubrey Miller, death is the definition of her very existence. Overcome with the guilt resulting from the loss of her beloved family, she alters her appearance from the once beautiful, blonde-haired, blue-eyed little girl to that of one shrouded in complete darkness, enveloping herself in her own unbreakable fortress of solitude as a form of protection for others.
As she enters her first year of college, her goal is simple: Earn a degree with the least amount of social interaction as possible. What she never anticipates is the formation of very unlikely relationships with two people who will change her life in ways she never believed possible: Quinn Matthews, the boisterous former pageant queen, and Kaeleb McMadden, a childhood friend from her past who never really let her go.
Over the years, as their connections intertwine and grow, a seemingly indestructible bond is formed between the three…
But when death painfully reemerges, Aubrey is lost once again, burying herself deeper than ever before inside the familiar fortification of her fears.
Will the refuge of friendship, the solidarity of life-long bonds, and the power of unconditional love be enough to do the impossible?
Will they be enough to finally bring about…
The Resurrection of Aubrey Miller?
****Standalone NA Contemporary Romance/HEA****
****WARNING – Due to the graphic nature of some scenes, this book is intended for mature audiences only. Contains adult language and themes.****
This is L.B Simmons best work yet!! I have followed her since her debut book and have watched her grow as a writer and am in awe with how she gets better and better each time.  The Resurrection of Aubrey Miller simply touched my heart not only because of the many issues that people face in real life everyday but because of how it was handled so delicately and so precisely showing us readers true growth in characters and relaying a powerful message of hope, truly living life, not running from fears and finding strength from within…this story was SO well done and is definitely one of my TOP READS of 2014! It will be for you too…
Without revealing anything of the story as a lot of it is mentioned in the blurb for the book, I will say that I simply LOVED the prologue for this book.  L.B is a wonderful story teller, transporting us to our college years, creating such imagery that I can see it so vividly in my mind.
Aubrey Miller is a lost girl, thinking that she kills everything in her path.  This poor girl has lost so much at such a young age and she forbids herself from truly living and enjoying life.  So dark and so isolated that I wanted to jump into this book to hug her and befriend her and take her under my wing.
I adored her roommate Quinn and Kaleb, a boy from her past, both characters trying to break down her walls and become a part of her life.
Kaleb is the epitome of a book boyfriend – so patient, so kind and sweet….no I won't tell you why as I think you need to read this book and fall in love with him yourself (though I will fight you for him!)
The college years are tough for everyone and I journeyed with these characters and fully experienced the highs, the lows, the happiness and sadness.  Watching Aubrey finally realize the strength she had inside to embrace life and to fully understand that she was worthy of happiness was so touching, creating such warmth and love in my heart for someone so deserving.
This beautiful book is the epitome of hope; so refreshingly different than what's out there now that I encourage you to read this book – you will not regret it for a second!
I read this book while I was on vacation and when I closed my kindle I had a smile on my face…I love when I read a good book and leave off on a book high…this was a tough journey but well worth the ride.
<3
L.B. Simmons is a graduate of Texas A&M University and holds a degree in Biomedical Science. She has been a practicing Chemist for the last 11 years. She lives with her husband and three daughters in Texas and writes every chance she gets.
Website | Facebook | Twitter | Goodreads | Amazon
---