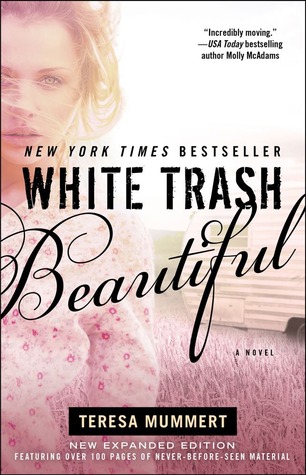 Happy Release Day to Teresa Mummert and White Trash Beautiful!!!
Enter for a chance to win a giveaway of this book using Rafflecopter below!!
---
4 STARS!!!
Synopsis
A word-of-mouth bestseller that's captivating readers with its honesty, grit, and headstrong heroine, White Trash Beautiful is a story for anyone who has ever felt trapped in life, cheated by love—and longed for something more . . .
Cass Daniels isn't waiting for her knight in shining armor. She knows that girls like her don't get a happily ever after. Not if you live in a trailer with your mom, work at a greasy spoon diner, and get leered at by old men. Maybe that's why she puts up with Jackson—her poor excuse for a boyfriend, who treats her like dirt. Cass has learned to accept her lot in life. That is, until he walks into her diner. . . .
His name is Tucker White, and he's different from any man Cass has ever known. Tall, tattooed, and bad-ass gorgeous, he's the lead singer of the rock band Damaged. From the moment they meet, Tucker sees something in Cass he just can't shake. Something beautiful. Something haunted. Something special. And he's determined to find out what it is—if only he can get her to open up and let him in. . . .
Denise's Review
I thoroughly enjoyed this book, it pulled a range of emotions and has characters whose connections were clear to the reader.
Cass Daniels is a woman whose life is full of despair. Ms. Mummert portrayal of Cass' situation will pull at your heart, I think for most readers this level of desperation and clawing through life just to survive is a reality most of us can not even imagine. Cass' life is made to feel so real, you will wish so much more for Cass as her circumstances spiral further downhill.
Tucker White, the front man for the rock band Damaged, sees something in Cass from the moment he walks into the dinner she works at. I love how this attraction was about what he saw in her eyes as well as a connection based on his upbringing, one he is open with Cass about.
As these two start to open up to each other the reader is pulled into their world, you will hope for a better future for Cass as you start to wonder who Tucker is and why he wants so desperately to help Cass.
The connection these two develop is deep and tangible, as Cass starts to trust you will find yourself wishing she would run to Tuck, take his help, embrace his support. But can she? Can she trust a rocker who walked into her life and claims he wants to help?
Well you will have to read to see… I will say the end was so well done, I was gripping my Kindle with my heart pounding in my chest.
In the end I did close my kindle with a smile on face. And I am very much looking forward to see more from this cast in book 2 White Trash Damaged.
About the Author

Teresa Mummert is an army wife and mother whose passion in life is writing. She is the author of the New York Times and USA Today bestselling novels White Trash Beautiful and Suicide Note. Born in Pennsylvania, she lived a small town life before following her husband's military career to Louisiana and Georgia.