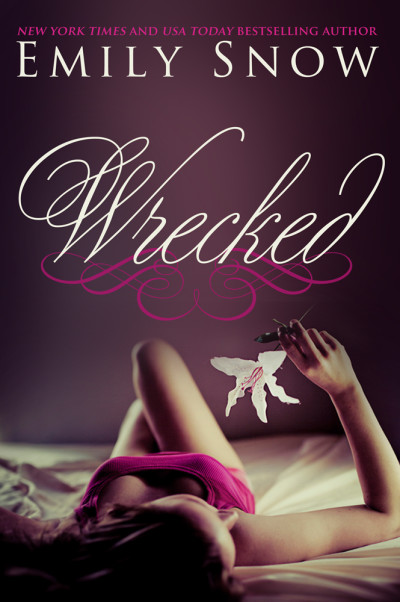 Make sure to enter the giveaway below for a chance to win an ebook copy of this book! Good Luck!

Two years ago, Evie's sister died, leaving her lost. Existing without really living. Coping the only way she knew how: by wrecking things.
Last year, Evie exposed her dad's affairs, finished ripping apart her relationship with her longtime boyfriend, and completely ruined her music scholarship.
But today, she's reinventing herself at her new university. Desperate to break away from all the destruction she's caused, Evie's ready to start over. For her sister, who never even had a chance. And for herself.
Then Rhys, her new voice instructor, happens.
He's gorgeous and insanely talented, but he's also a part of the dark past Evie is trying to overcome. Rhys's brother is the reason why her life went up in flames, the reason why Lily, Evie's sister, is dead. But even though Rhys is the last person Evie should ever want, for the first time in two years, wrecking things seems…right.
*WRECKED is a standalone novel and is not a part of a series*



 Christine's 5 STAR Review!!!
And she's BACK!!!!  I loved this new standalone by Emily Snow – though I am biased and love everything she has ever written 🙂
This is a captivating story of Evie, who for the past two years wrecks everything in her life, but is now in a new college trying to move past the hurts of her past and start living life again.  Ever since her sister Lily died, Evie has felt an enormous sense of guilt and in turn ruins anything good in her life and self destructing.
Realizing that she needs to move past this and truly live for herself, Evie attends a new college to reinvent herself and do the things she loves which is singing.  I truly liked Evie – she is feisty and tells it like it is and I commend her for trying to get back to who she once was vs. being the shell of herself that she has become.  It takes a lot of strength to make those realizations on your own and do something about it.
Enter my new hot musician boyfriend Rhys, who teachers her much more than music but gives her a reason to open her heart again to something more…to love..to feel…to live…I have to hand it to Ms. Snow that she knows how to write men that we love and swoon over and Rhys was no exception. 🙂  There is something so charming about Rhys and his southern drawl.
I will also say here that the sexual tension in this book combined with the flirting banter was killer *be still my heart!*
The friendship/relationship that Rhys and Evie have for each other is so beautiful and intense yet they do honestly frighten me because once the truth is revealed, I don't know if they can survive it.  And so when those secrets are finally revealed and we find out how Rhys and Evie are connected, will they be able to move forward together to form a relationship or will they be so consumed by the past that they will wreck any chance for a future together?
You will have to read this book to find out!
So yes Rhys has a secret past too…one that we learn early on in the book.  When Evie realizes who he is, I will admit that I wanted her to be more honest because you know how the saying goes with honesty is the best policy??  I understood why she chose not to but in my heart, Rhys was such a kind, sweet and patient guy and I almost wanted more for him.  I would have loved more interactions between the characters especially with the music as there was such a strong connection between them both.  Or even a dual POV, as it would have been nice to hear Rhy's thoughts about Evie too.
I also want to say here that I love watching Evie and her mother's relationship come full circle in this book.  I am being vague only because I feel that you have to experience that interaction on your own as being a mom, it did bring tears to my eyes and the "feels" in my heart.
Ms. Snow knows how much I LOVE epilogues and I think this would have rounded out the book nicely but all in all I adored Wrecked, the writing was perfection, I was captivated and of course left wanting more of these characters.  I closed my kindle with a smile on my face and love in my heart for these two beautiful characters.  Though this is a standalone, I would love to revisit them just to see what the future holds….hint hint hint!!!  With Emily's new book Wreck releasing, she has proved to us again, why we love her so!! <3

Emily Snow is the New York Times and USA Today bestselling author of the erotic romance series Devoured, which includes Devoured, All Over You, and Consumed, as well as the new adult novel Tidal. She loves books, sexy bad boys, and really loud rock music, so naturally, she writes stories about all three.
---