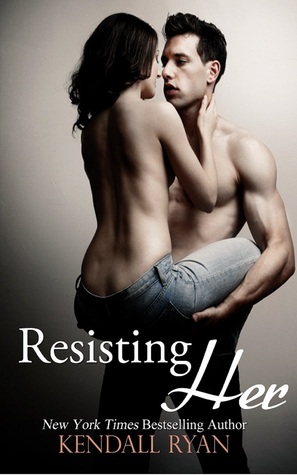 Happy release day to Kendall Ryan and her new book Resisting Her!
Enter to win an ebook copy of her book using Rafflecopter below!  Good luck!
---
4.5 STARS!!!
Synopsis
From the New York Times and USA Today Bestselling Author Kendall Ryan comes the sexy and seductive Resisting Her.
Agent Cole Fletcher lives for his job at the FBI, and he's more than ready for his next assignment—raiding a cult compound and putting their leader behind bars. But he isn't prepared for Savannah and her knock you on your ass good looks. At nineteen, she's too old for foster care and too damaged to live on her own. With nowhere else to go, and against his better judgment Cole takes her in.
But helping her out won't be easy. He comforts her through screaming nightmares and escaping the lingering fears of her past, but that's the easy part. Her preference to sleep cuddled up next to his warm body, and her desire to please him in every way makes her harder and harder to resist.
Denise's Review
I have to say I was hesitant going into this book and even fairly far into the book about Savannah being only 19. But I have to say Ms. Ryan proved me WRONG, big time.
I really enjoyed the pace this relationship developed at, it was slow.  Cole and Savannah connected on so many levels. Savannah is young.  Cole's internalizing of that lead to a wonderful, friendship, companionship and eventually undeniable attraction.
This book pulled me, I kept wanting to read more as these two became closer and closer. I wanted to see how they came together, how they broke through the perception that being together was wrong.
Ms. Ryan makes Cole vulnerable and wounded. Ms. Ryan uses Marissa, Cole's sister to show he is growing emotional, this part of the book was really so well done.
There is a scene were Marissa is observing them moving around the kitchen together; the reader can see Cole is emotionally immature and they can see that as Savannah healed she matured.
I so enjoyed Cole and his voice.  Savannah has enough of a voice that I felt like I understood her, especially how she was torn as to why Cole "did not want her." My heart started to break for her as she took his last of affection as rejection.
There is one scene that I don't want give away but let's just say Cole tries to push Savannah away; this scene was so well done, the reader sees Cole can't hide even from himself the depth of his emotion.  This scene was also used to show  how naive Savannah is and just how brave she wants to be.
On numerous occasions Ms. Ryan did a wonderful job showing Savannah moving forward and healing. I really liked the use of "therapy tool" no I don't want to ruin it for the readers I want you to meet this adorable secondary character for yourself.
Savannah finding her voice and speaking up when she has questions and her finding her sexuality were so powerful.  I found myself rooting for Savannah to get her man!
I will say the first time these two kiss… wow, maybe it is the build up or Ms. Ryan's masterful use of words but it was so good!
I loved the end of the story.  It addressed open issues in the book and I adored the epilogue it really rounded Cole out.  It really re-enforced Cole's caregiver side; enforcing he is caring and kind and that he just needed to find the right person to open that side of him up to fully.  It highlighted that Savannah and Cole's relationship was not about Cole fixing or rescuing her but about finding the person he wanted to "care" for for the rest of his live!
When I closed my Kindle I had a huge smile on my face!  This book is a must read!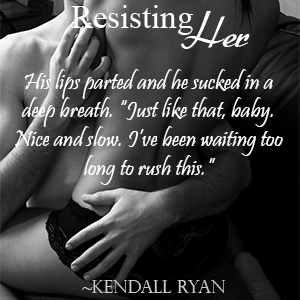 About the Author
Romance author. Shamelessly addicted to bad boys, kissing and steamy romance novels brimming with dark, angsty tension.
---
GIVEAWAY