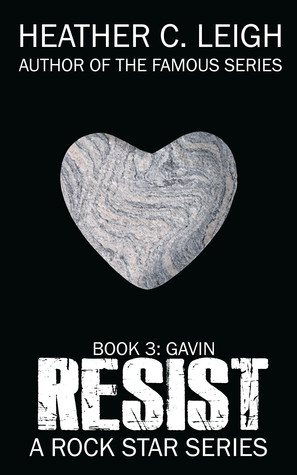 Resist: Gavin

by Heather C. Leigh
on August 9, 2015
Pages: 311
Buy on Amazon
Goodreads


All Gavin Walker, bass player for the multi-platinum selling band, Sphere of Irony, wants to do is surf, play music, and occasionally get laid. The problem is that Gavin has a stalker. A potentially deadly one. The threats he receives always mention something about Gavin being gay, which isn't public knowledge since the record label wants to keep it quiet.

Mitch Hale used to track serial killers for the FBI. A life-changing incident led him to quit the bureau and start his own company providing computerized security for Los Angeles' wealthiest people. Mitch doesn't know anyone when he moves across the country from D.C. to California, and all he has for companionship is a pathetic string of failed relationships with women.

When Gavin's manager hires Mitch to find the stalker, the men instantly hate each other. Despite the constant fighting, attraction between the two blazes hot, confusing the former FBI agent. Spending time with Gavin forces Mitch reflect on what he's denied about himself for the last ten years. Listening to Mitch's plan to catch a madman thrusts Gavin's personal life out in the open for the entire world to see.

Can Gavin and Mitch stop fighting long enough to stop a stalker before someone gets hurt? Or will they stubbornly resist the feelings that develop when they're forced to work together?

This is book 3 in a 4 part series. It is a spin-off of the Famous Series. These can be read as standalones.
First it is important to note, I read this book as a stand alone and loved it!! I had no issues following the story or understanding who was who so if you love male- male stories or rocker books, or if you just love discovering a new author, I recommend this one!
Second if you know me personally or have followed me on social media, you likely know I lost my brother and only sibling to suicide. I think it is important to know that about me before I say WOW, the opening of this book is so powerful.  The reader truly feels Gavin's pain and is with him thorough the book as this scene and the events that lead up to it weave back into this wonderful story.
Words like this pulled me right into this:
"I've always loved the ocean. It's peaceful on the outside, but as they've always said, looks can be deceiving. Under those blue-green waves lie torment and fury and the ability to cut a grown man down. Sort of like me, beautiful on the outside or so people tell me but inside, I'm a twisted wreck of anguish and self-hatred."
Resist is the story of Gavin Walker, bass player for the multi-platinum selling band, Sphere of Irony and Mitch Hale a former FBI agent hired to keep Gavin safe in the face of a stalker whose actions are escalating.
This book has a lot of twists and turns that worked and were woven together to make this a "keep you glued to your kindle" kind of book.
I don't often love the use of a movie or song reference in books but Gavin calling Mitch Johnny Utah, a reference from the movie Point Break was perfect! And this line from Gavin had me laughing out loud!
"Holy shit. Johnny Utah is a bottom I think I just died and went to heaven."
The "who" Gavin's father is and his background, tying into Gavin's upbringing and  overlapped into the end of this book was powerful and heartbreaking all at the same time.
Mitch's family was such a contrast to this, as these parents face something they never thought they would hear from their son, "I'm gay" they have to deal with losing their son or accepting him.
In the end, Gavin's Mom pulled at my heart and proved in spades how important communication is and how even as adults we do truly crave the love of our parents.
I should add that the chemistry between Gavin and Mitch was off the charts, it is so clear to the reader these men are it for each other; watching each men get to that place kept me engaged and rooting for them.
This is a really well done "gay for you" story for Mitch's character. Hearing Mitch speak of trying to be with woman in the past all the while he is undeniably attracted to Gavin painted such a clear path to "what" or rather "who" Mitch's happy was… he just had to accept he was gay and overcome a work relationship to do it..oh and watch the stalker set to kill Gavin.
Yes, once I wanted to strangle Mitch, but I understood why he did it and it worked for the character crafted.
Experiencing Mitch overcome all of that, all the while Gavin has to deal with who his stalker is and to overcome the heartbreak of his past make for a happy for these two that warmed my heart!
I am so excited for Henry "Hawke" Ross, drummer for Sphere of Irony story in Wreck: Hawke , http://amzn.to/1Kekqdj.
Given how Hawke and Gavin meet, this one has me dying to read it (nope not telling you how they meet – read the book)!
Grab Wreck now at the pre-order price of 99 cents!
Enjoy a sneak peek into WRECK: HAWKE releasing October 25th!
Abby sees Hawke onstage
The club lights dim and the stage glows bright. The guys took their places in the dark, because when the spotlights turn on they're already on stage, looking like the famous rock stars they're hoping to become. My eyes immediately zero in on Hawke and I gasp. He's wearing only a tight white T-shirt and jeans. The blank slate highlights the colorful sleeves of tattoos on both of his arms. When he raises them above his head and taps his sticks together to start the first song, I nearly drool at the sight of the lean muscles flexing.
Adam sings the first note and the women in the club go insane. Insane to the point Kate and I exchange stunned looks.
"Bloody hell," she exclaims. "That," Kate says, pointing at the women screaming, desperately reaching over the edge of the stage to get a handful of any of the three men playing guitar up front. "Is why I can't watch from back stage. You should see the lust on their faces." Kate shudders in disgust. "Nothing but slags."
I shudder along with Kate, but not in disgust. No, I shudder because I may as well be one of the 'slags' Kate is sneering at. Hawke may not be standing at the front of the stage, swaying his hips and making eye contact with the hysterical women, but watching him play is like watching him have sex on stage. Every movement is so fluid, so sensual, and the expressions on his face only heighten the eroticism.
Who knew drumming could be foreplay?
Fire licks across my skin in a fiery caress, leaving a scorching trail in its wake. A pulsating ache begins between my legs, the sensation increasing with each beat of the drum. Every move Hawke makes ratchets up the magnitude by ten-fold until I'm practically quivering with need, ready to fling myself at him and rub my body all over his.
These sexual feelings are so new to me, and so much more intense than I ever imagined I could feel. I'm torn as to what to do. On one hand, I want him. Badly. I could probably convince Hawke to have sex with me, but that's all it would be. Sex. Nothing more, nothing less. On the other hand, I want to find out more about the man. Find out what else is behind the confident, gorgeous facade.
Is it possible to have both? Or would I be destined to follow Hawke around like a beggar on my knees, grateful to accept whatever attention he deigns to throw my way? Would I be able to watch him be with countless other women while I linger in the background, praying he'll notice me someday and we'll live happily ever after?
I focus back in on the sexy drummer, hoping to find some sort of answer. The fact that Hawke isn't hanging over the crowd of desperate groupies doesn't hurt. Adam plays the women like they're an extension of his guitar. He reaches out to give small touches here and there, throws a wink at someone in the crowd, makes everyone feel as though he's singing for them and them alone. If Hawke did that, I couldn't stand to watch it.
A sharp poke in my ribs tears me from my Hawke-induced trance. "Abby!" I turn to find Kate giving me a look, one blonde eyebrow raised in question.
Busted.
"What?" I ask, bristling in defense.
"Hmmmm, nothing." The expression on her face makes it clear she knows exactly what I was doing. "We have to meet up with the guys backstage. None of them wanted to be the driver, so we're getting a couple of taxis to take us to the party."
Ugh. Here we go. Time to either go for what I want, or miss out on what has the potential to be something incredible.
Question is, which would be worse? Having what I want and losing it or never having it at all?

♥READ THE BOOKS ♥
Book 1 – Incite: Adam
Book 2 – Strike: Dax
Book 3 – Resist: Gavin
Pre-Order Book 4 – Wreck: Hawke