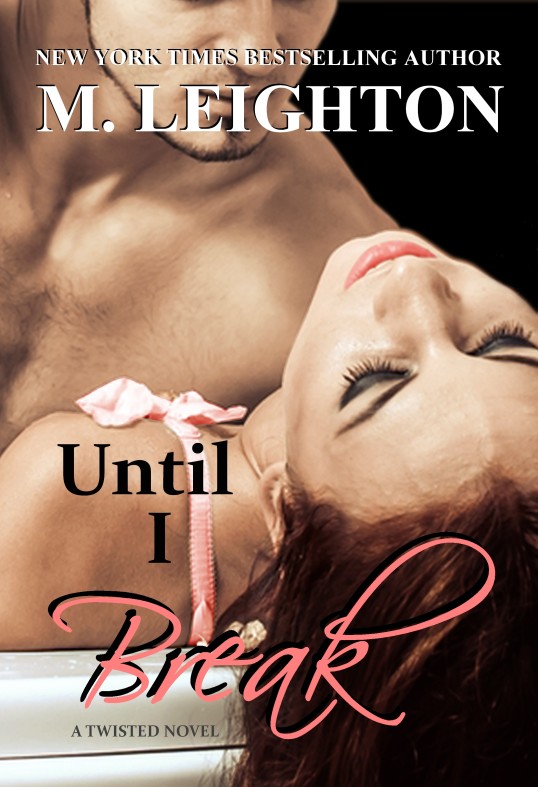 ---
4.5 STARS!!!
Synopsis
"I'm intrigued. Tempted beyond what I've ever been before. To know her, to open her up. To break her."
In love, sometimes what you fear most is exactly what you need.
Laura Drake is an author. She writes bestselling paranormal romances that continue to top the charts. She is sharp. She is confident. She is in control.
And she doesn't exist.
Samantha Jansen is the woman behind the wig, the woman most of the world doesn't know exists. She is shy. She is insecure. She is nothing like her main character or her alter ego. She is scarred—deeply scarred—by a past she can't let go of and a present she can't make peace with.
Samantha's dreams are consumed by one man, the broken hero from her books. Mason Strait is both her wildest fantasy and her most terrifying nightmare.
When Samantha meets Alec Brand, a corporate consultant, it is as though Mason has come to life. Alec is handsome to a fault, as elegant as he is arrogant, and more intense than any man has a right to be.
Samantha is soon sucked into a world that mirrors the fiction she writes. Just like her main character, Daire Kirby, Samantha finds herself unable to resist the forbidden lure of Alec. And just like Daire, she also finds that she is faced with taking a chance on a man who could either set her free or destroy her.
The scale tilts toward destruction when Samantha finds out that Alec is as much a work of fiction as Mason. And he has scars of his own, scars that could ruin them both.
**This book may be read as a stand-alone, as the story of Alec and Samantha comes to a conclusion in this book**
Denise's Review
Until I Break is the story of Samantha Drake and Alec Brand. Samantha lives two lives – a very private one as herself with limited connection to the outside world and the other as bestseller author Laura Drake. Mr. Brand well, I will not tell you who he is as you need to read the book to find out this wonderful twist!
I loved this book; it is the kind of book you get in trouble for as you keep reading when you are supposed to be doing other things; yes I was yelled at by my hubby for being late; I just could not tear myself aware from Alec!
Until I Break is a very unique story; these two are professionals – professionals with pasts, pasts that bleed into their professional lives. And as these two grow closer the professional lives blend into their personal lives even more. I truly enjoyed this element as life does sometimes get messy; many times it is hard to concentrate on work when things in your personal life are not working out.
As these two start to connect, the reader can feel their attraction and their hesitation to open up. Both have dark pasts that the author slowly unravels for the reader; though it take most the book to learn the mystery behind Alec, the scene is so powerful that you truly understand why he is who he is.
Ms. Leighton, I am not sure I will even look at a glass of lemonade with ice the same again! Such a memorable scene!
I truly enjoyed the end of this story; the use of Samantha's sister Christy was really well done!
This book is a stand-alone, as the story of Alec and Samantha has a wonderful ending.
Teaser (posted on Michelle's Blog on Sunday 5/12)
They say clothes make the man.  I can honestly say that, in this case, the man makes the clothes.

Alec is dressed in a tuxedo.  It's nothing special, but he effortlessly turns the plain black suit and white shirt into something more, something dashing and debonair.  Something dangerous.  Very, very dangerous.

"If you're going to look at me that way, I might need to warn you about me," he says, taking a step toward me.  Instinctively, I retreat.  One side of his mouth quirks into a wry grin.  "Or maybe you already know."

"I—I don't know what you mean," I manage to squeeze out quietly over the pounding of my heart.

"I'm not the warm and fuzzy type, Samantha.  It's not my intention to make you feel love.  I don't have that kind of emotion in me.  But there are other things I can give you, other things I can make you feel.  Really feel."  His eyes are hooded as he looks down at me.  He takes one more step forward.  This time, I don't back up.  "Excitement," he says, reaching up to wind one long, red curl around his finger.  When his eyes meet mine, I feel like he's doing the same thing to me—winding me around his finger.  "Anticipation.  Desire.  Warmth.  I can make you feel very, very warm."

As though his words alone can evoke the sensation, I feel hot blood rush to the surface of my skin and pool in the lowest part of my belly.

"You might even feel a little fear," he continues softly.  "But even that can be intoxicating in its own way."

I'm mesmerized by his words, caught off guard by his honesty.  I'm surprised and I'm a little afraid.  But I'm also all in. I feel it in my bones, just like I feel that there will be some part of me that will live to regret it.

"But not tonight," he says, moving away from me, giving me room to breathe as if he knew I had none.  But even with more space between us, I'm still breathless.  I have a feeling I will always be this way in his presence.  The question is: How long can I survive without air?  "Tonight is your one free pass.  Just know that the next time you look at me this way, I'll feel compelled to do something about it."  Alec walks to the door and opens it, sweeping his arm out in front of him, asking me casually, as if he didn't just drop that little bomb on me, "Shall we, Samantha?"

That question is full of so much more than just the request to follow him to the door or to the fundraiser. He's inviting me into his world, into the place he described.  A place of excitement and anticipation, both of which I can already feel.  And fear. And I can feel a little bit of that already, too.

I know I should hesitate longer over my response.  But I don't.  Instead, on numb legs and with butterflies in my stomach, I walk toward him.

I stop in front of him.  My eyes drift up to lock on his.

I say nothing.  But I don't really have to.  I suppose my action speaks volumes.  And Alec understands it.  I know this when he leans forward just enough to whisper in my ear, "I hope that's still your answer tomorrow."

I don't respond.  I know he doesn't expect it.  I simply let him lead me from the room.  Lead me on.  Despite the risk, I can't not go with him. I can't not see, not feel, not try.

Mason bends the woman over his arm, his hand gliding up the glistening space between her breasts.  His long fingers splay across the width of her neck, the tips coming to rest along her jawline.  Her chest rises and falls with her excitement as he nudges her head to one side, exposing her throbbing artery.

And then, as I watch through the small part in the curtains, he bares his sharp, deadly teeth. 

Like Daire,  I see the fangs.  I sense the danger.

It's just that neither makes a difference.
About the Author

I was born and raised in the United States, and I've lived in several of the fabulous fifty. Though I currently live in the deep South, I spent much of my childhood up North and hope to return there one day. A few other things about me: I believe that sometimes you have to look really, REALLY hard to find the good in people, but it's there. I believe that I'm shrinking (I swear five years ago I was two inches taller). I believe my husband is quite possibly one of the most amazing men in the entire world (I can't be sure because I haven't met all of them). I believe coffee and chocolate, when combined, could be the basis for world peace. I believe that Jesus rocks and communism doesn't. I believe that white makes me look fat and black collects lint. I believe summer's too hot, winter's too cold and fall was made for football. I like dogs better than cats and the first movie in a trilogy is invariably the best. But most of all, I believe that love conquers all.