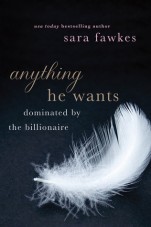 4 Stars!
Summary:
First published as a five-part e serial novel, Anything He Wants inflamed imaginations everywhere and became a national bestseller. Now available for the first time ever as a complete book, this edition contains never-before-released scenes and special bonus material. Don't miss this erotic tale of a powerful billionaire who always gets what he wants and the young woman who's about to enter his exclusive realm–a world of glittering opulence and all-consuming passion, where she'll explore the darkest reaches of her own desire.
Lucy Delacourt's temp position isn't quite her dream job but it pays the bills. The highlight of her day is riding the elevator in the mornings with a handsome stranger. Tall, dark, and sexy as hell, Lucy knows he's way out of her league, but a girl can look, right?
Everything changes the day the stranger seduces her. Completely out of character, she yields without a fight, but she has no idea her wanton acts with a man whose name she doesn't know will change her life forever. Because the sexy stranger is none other than Jeremiah Hamilton, billionaire CEO of Hamilton Industries, and one taste isn't nearly enough to satisfy his need. As the billionaire pulls Lucy deeper into his world of high stakes business deals and ruthless takeovers, he demands nothing less than her complete surrender. But even as enemies seek deadly revenge against him, she'll discover that her greatest threat is falling for her fiercely guarded boss…and yielding to her own darkest needs.
Christine's Review
I received this book to review through Netgalley. It was originally a 5 part series of novellas and was picked up by a publisher and now all books were combined into one. I have to admit that I liked it this way because the story was able to flow nicely together rather than having to wait for the next novella to come out and be frustrated in the process!
This book is about a billionaire Dom, Jeremiah Hamilton, who begins a relationship with a temp he sees in the elevator, Lucy Delacourt. Lucy purposely rides the elevator each morning to be able to see this smoldering hot stranger she fantasizes about each day. Everything changes for them when he finally approaches her when they are in the elevator alone together and here begins a contractual relationship between a billionaire and his "personal assistant."
Lucy is swept away to Paris where she learns what life is like for the wealthy including high society gala fundraisers, expensive clothes and of course the danger that follows people with money. Though Lucy is frustrated about her situation, her mind and body can't resist Jeremiah. Jeremiah is hard on the outside and doesn't show his emotion so it's difficult to understand what he feels for her – but we do see a different side of him when Lucy gets poisoned – an attempt on her life that should have been for Jeremiah (or perhaps both).
I liked this book for many reasons. Both characters have real flaws and you can relate to them. Jeremiah comes from a military background, having to sacrifice what he wants to become CEO of his father's company. He comes from a dysfunctional family, how can he not turn out screwed up? But what you see in him is his need to protect Lucy. Coming from the type of background he was raised in, it makes sense that he will be afraid to love Lucy but I think he does deep down inside and just doesn't know how to show it. I liked how the book ended where Lucy left with his brother. Throughout the book, I felt that she showed that she was growing into her own skin – becoming more self-confident, self-assured and for her to leave, finally shows that she has the strength not to stay but to make him realize what she means to him and to have him chase her rather than to have things fall naturally to his feet. I can't wait until the next book to find out what happens with these two and to see how they will make it work. This book was filled with true passion, great sex and danger – what's not to love! Great job!
About the Author:
Sara Fawkes has always loved spinning tales but her romantic roots come from sneaking her mother's old Johanna Lindsay books from the dresser drawer. One who's been writing since she was a little girl (and has the home made books from preschool to prove it), she loves creating stories and characters and interesting messes for them to get into… and for the handsome guy to get the girl in the end. An avid traveler and adventure motorcyclist, her dream job includes selling everything off and leaving civilization to see the world on two wheels, writing in cafes in each country she visits, and living off her writing. In the meantime however, she lives in California with her menagerie of pets and, when not writing, loves to rebuild old motorcycles/cars and practice her fiddle. You can find her online at http://sarawriteserotica.wordpress.com talking about whatever strikes her fancy.
For additional information visit her at http://sarawriteserotica.blogspot.com
http://www.goodreads.com/author/show/5823355.Sara_Fawkes
Facebook http://www.facebook.com/sara.fawkes.9?fref=ts#!/sara.fawkes.9