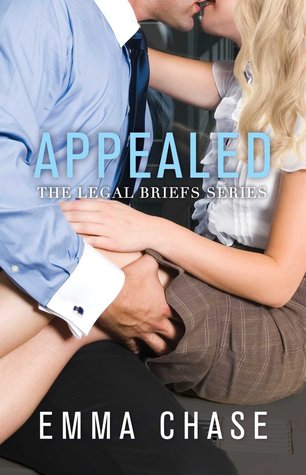 Appealed

by Emma Chase
on January 19, 2016
Buy on Amazon
Goodreads


When Brent Mason looks at Kennedy Randolph, he doesn't see the awkward, sweet girl who grew up next door. He sees a self-assured, stunning woman…who wants to crush the most intimate - and prized - parts of his anatomy beneath the heels of her Christian Louboutins.

Brent has never let the loss of his leg in a childhood accident affect his ability to lead a fulfilling life. He sets high goals–and then he reaches them.

And now he has his sights set on Kennedy.
**
When Kennedy looks at Brent Mason, all she sees is the selfish, Abercrombie & Fitch catalogue-worthy teenager who humiliated her in high school to join the popular crowd. A crowd that made those years a living hell.

She's not a lovesick social outcast anymore - she's a DC prosecutor with a long winning streak behind her. Brent is the opposing attorney in her next case and she thinks it's time to put him through a little hell of his own.

But things aren't exactly working out that way.

Because every fiery exchange has her wondering if he's as passionate in the bedroom as he is in the courtroom. Each argument and objection only makes him want her more. In the end, Brent and Kennedy may just find themselves in love…or in contempt of court.

APPEALED is a sexy, humorous romance about first crushes, second chances and the final verdict of the heart.
I loved Appealed; it was my favorite book of this series and I should add it can easily be read as a stand alone.
This book has such a range of emotions, one of them being humor, and I often think humor is one of the hardest things to pull off in a book so hats off to Ms. Chase. I have now come to count on Ms. Chase for both humor and epic male POV! This book delivers both in spades!
I named Appealed in my Top List of 2015  and I have to say I think Brent is my new favorite Emma Chase character. Why you ask… how could someone replace Drew? Well, Brent knew what he wanted and he wanted Kennedy. I am sucker for a man who knows what he wants and goes after it full force!
Brent made me smile so many times in this book!
"Morning, cupcake." I smile.
She doesn't. She glares.
"Did you have sex with me?"
I tap my lips with a finger, contemplating her question.
"I can't decide if I'm more offended that you think we'd have sex while you were shitfaced – or that you actually think you wouldn't remember it if we had."
As I said I adored that Brent knew what he wanted and that he went after it.  Since Brent and Kennedy have "history" (one that I won't ruin as it is best discovered by reading the book) his patience with her was so perfect and made me love him even more!
"What'd you do to your face?" she asks, folding her arms.
I touched my chin. "I grew a beard."
"Well ungrow it. It looks like a vagina from a 1970s porn film."
Toward the end of this book, Brent works very hard to make right some of the wrongs done to Kennedy. OMG this made me love the man that much more.
"I am in love with you. When I look at you, think about you, I can't decide if I want to f*ck you, strangle you, or just hold you in my arms. Usually all three. And if that's not love, I don't know what is"
Yes, these two have hurt in the past but with lines like this from Brent how could Kennedy not give in:
"I didn't want your friendship. Kennedy – I wanted you. And if I couldn't have you – I had to present you didn't exist. Because then I could tell myself I wasn't missing out on everything I knew I was."
The epilogue to this book was such an amazing end to a wonderful series; truly an adorable (yes adorable) voice to hear from; I was grinning from ear to ear!
I have to say I am sad this series has come to an end as I adore these lawyers (and who thought they would ever say that)
Thank you, Ms. Chase for a book that is on my top list for 2015! Why 2015 well because that is the year I read it in. Thanks to the publisher who graciously providing an ARC of this wonderful story!
♥READ THE SERIES♥
Book 1 – Overruled 
Book 2 – Sustained
Book 3 – Appealed