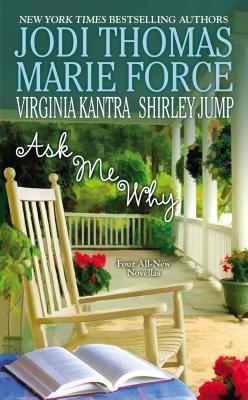 Ask Me Why

by Marie Force
on July 7, 2015
Buy on Amazon
Goodreads


New novellas in the Green Mountain, Harmony, Southern Belle Book Club, and Dare Island series!

From four contemporary romance stars, stories filled with first kisses, first dances, and happily-ever-afters…

You'll Be Mine by Marie Force: Will Abbott and Cameron Murphy are finally ready to tie the knot—as long as family, friends and a love-struck moose don't get in the way.

Midnight Bet by Jodi Thomas: When cousins Rick and Lizzy Matheson of Harmony, Texas, wind up on the wrong side of an attempted shooting, they know they're in deep. Still, the biggest danger is losing their hearts—Rick to an old flame and Lizzy to an old friend she'd never noticed before…

Wrapped Around Your Finger by Shirley Jump: Maggie McBride is just one of the guys in the hard-knocks world of construction. Until she's dared to ask Nick Patterson to a wedding, enticing her to knock down some walls—and risk falling in love.

Carolina Heart by Virginia Kantra: Determined to leave her wild past behind, Cynthie Lodge is forging a new life for herself and her daughters—one that's man-free and drama-free. But when her high school crush shows up on Dare Island, he's determined to make her break her rules…
You'll Be Mine by Marie Force continues the story of Will Abbott and Cameron Murphy as they are finally ready to tie the knot in this novella found inside the Ask Me Why anthology.
If you have not read this series, stop now and #1click book 1 All You Need is Love, this book is about Will and Cam and it is the start of a wonderful family saga!
Ok for those who have read this series, you are going to want to read this novella!
You'll Be Mine instantly reminded me why I love this series and why I adore the Abbott family! Ms. Force yet again proves the power of her written prowess as she masterfully continues to develop each of the 10 Abbott children and the rest of the family with their own personalities.
The wedding itself so fit Cameron and Will, and Cam's honoring of her mother was so powerful.. no I am not going to tell you what she did…read the novella.
I loved the sub-plot with Patrick, Cam's father and Mary, one of the story employees… yes I hope there is another novella to come!
I am even more excited for Ella Abbott and Gavin Guthrie story in It's Only Love http://amzn.to/1bamVBX.
♥READ THE SERIES♥
Book 1 – All You Need is Love
Book 2 – I Want to Hold Your Hand
Book 3 – I Saw Her Standing There
Book 4 – And I Love Her
Book 4.5 – Ask Me Why