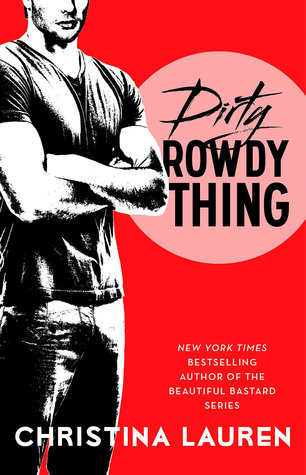 Dirty Rowdy Thing

by Christina Lauren
on November 4, 2014
Pages: 352
Buy on Amazon
Goodreads


Despite their rowdy hookups, Harlow and Finn don't even like each other...which would explain why their marriage lasted only twelve hours. He needs to be in charge and takes whatever he wants. She lives by theWant-something-done? Do-it-yourself mantra. Maybe she's too similar to the rugged fisherman—or just what he needs.
The moment I opened this book, I was reminded of how much I love this duo's writing and how much I was looking forward to Harlow and Finn.
Wow, Finn is just WOW; his story and his character are so much more than I expected. I love that he was dirty and rowdy in bed but without being a manwhore. There was no sordid past, no long line of women – just Finn knowing what he wants in bed and how to please Harlow! Now outside of bed, Finn is guarded and closed off. I truly enjoyed watching him open up to Harlow (even when he wasn't sure if it was for the right reasons).
Both Harlow and Finn have a lot going in their personal lives in this book. The blurb keeps most of this a secret so I will as well. I will say I loved what Finn did, how he struggled and the solution to that truly played well into a future for him and Harlow and I love how it tied into Harlow's upbringing and career (I know very vague – just trust me, it all ties together so well)
Harlow's family was well crafted; I love her relationship with her dad and the story line around her mother was powerful and truly added to the story.
Finn's nickname for Harlow was adorable. He turns Ginger Snap into just Snap and it made me smile each time.
It was wonderful to see Mia and Ansel, to see them happy and together! Because yes I loved book 1 as well.
I think it is also worth adding that I love how this group came together; the backstory for Finn, Ansel, Oliver and uggh Perry meeting assembled a diverse cast. And the adorable Vegas meeting from book one with friends Mia, Lola and Harlow have truly made for a wonderful dynamic for a series.
I am very much looking forward to Olivia and Lola's story in Dark Wild Night (Wild Seasons #3), though I do wish it was releasing sooner!
Oh and speaking of stories I would love, LOVE Levi and Colton Roberts; Finn's brothers to each get their happy as well. Thank you 🙂

1) How did Christina Lauren come to be? Can you describe a bit of how it works to be a writing duo?
We've been writing together since 2009! We met writing fanfiction. Before BEAUTIFUL BASTARD, we'd written a few other books together and had signed with our agent Holly Root for our young adult fiction projects. When the opportunity to rework BB for publication came up, it just made sense to do it together.
With some co-author duos, one drafts and the other revises, or they take turns drafting a book and revising a book. Some even write a chapter and then send it to the other who writes the next chapter as a sort of response, without outlining. We collaborate very evenly and do everything in tandem. It's really important to both of us to get together in person to outline, and we usually take about two days where we just talk about the book and characters nonstop. But then our outlines are pretty basic; they're often just a single word or sentence. From there, we draft the chapters we've chosen and share the docs early and often so that we both know what's coming, and what parts are getting tricky.

2) What was your first big purchase after the success of the Beautiful Bastard Series?
Probably something lavish from the minibar.

3) What do you wish readers knew about the writing / publishing process?
Honestly, we are all readers first and foremost, and there isn't anything readers should know about the publication process. Sometimes it's best not to know how the sausage is made, ha! Readers should just be able to easily find and buy (or borrow) good, well-edited books.
If readers are curious about how one gets a book published, we have a lot of great links for writers on our site. Readers may or may not know how much work it is to get published—whether through self-publishing or traditional New York publishers—or how much time goes into the writing process itself. Sometimes in the romance world, when it feels like authors put out a new book every couple of months, readers may imagine we sit down and write a book in a week or so. Even with two of us working full time at it, it takes about eight weeks to draft a book that we really love, and more time to revise. But you'll never hear us complain that our job is hard; it's the best job there is and we are grateful every day.

4) What inspired the Wild Season series?
We were thrilled to be invited to France in 2013 for the launch of Beautiful Bastard there. The schedule was packed—lots of media interviews, which was surreal and so fun!—and in a rare moment of downtime we went to a store to get each other a little something to celebrate the trip. The woman who helped us was American, and what's more, she was from the Valley! We were like, "What are you doing here?!" and she told us that she met her husband in the States, and they moved back to France together because he was French. She leaned in, smiled this adorable, beautiful smile, and said, "There's a book in there somewhere."
And that was it—our brains just took off with it, and even though at that time (May of 2013) we still had a few Beautiful books to write, we held onto the idea until it was time to write it . . . and Sweet Filthy Boy was born. That book will always be a treasure to us: it holds a special place in our hearts because Paris is a truly magical place and very tender in our hearts. With that book came all of the other ideas in the series—Dirty Rowdy Thing, Dark Wild Night (which we are writing right now), and Wicked Sexy Liar (which we'll write in December and January).

5) What can readers expect next from this series? And yes please a hint about book 4 would be wonderful.
Well, as you know, book three (Dark Wild Night) is Lola & Oliver's story. We are simply enamored with this one right now!!
And about book four . . .
When we wrote Beautiful Stranger, Will Sumner—Max's business partner and best friend—remained an unknown. Part of the main conflict between Sara and Max came about because Will was being careless and a bit of a playboy. Because of this, when readers found out that Will was the lead character in Beautiful Player, some were wary; they just weren't sure they could get on board for Will as a likeable lead.
And yet, they absolutely did.
Wicked Sexy Liar is the fourth book in the Wild Seasons series, and has another interesting male lead . . . this time, it's Luke, who is Mia Guillaume's ex-boyfriend and who readers first meet indirectly in Sweet Filthy Boy. After his break up with Mia post-accident, Luke went a little wild . . . and we are looking forward to exploring his past, his present, and his relationship with the woman who yanks his head out of his own ass, so to speak. We can't wait!
♥READ THE BOOKS ♥
Book 1 – Sweet Filthy Boy
Book 2 – Dirty Rowdy Thing