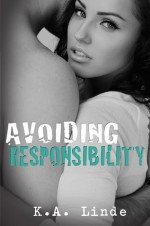 5 STARS!!!
Summary
Lexi has finally given up her once destructive relationships and moved onto bigger and better things with a sexy new man in town. Just when she is starting to figure it out with him, her world is tilted once again with a phone call from none other than Ramsey Bridges. A year after his entrance into her life, Ramsey is trying to make amends and does the one thing she never expects—invites her to Jack's wedding.
The wedding she had evaded at all costs. But no matter what she does, Lexi can't seem to escape her past with Jack. But does she really want to?
Despite the explosive chemistry between Lexi and Ramsey, she is skeptical about trusting him after everything that has happened. When things are amiss with him, she starts questioning his motives. Can Ramsey be the one to remove Jack from Lexi's life permanently or should she move on with her blossoming new life?
Christine's Review
I loved Avoiding Responsibility but really are you surprised because I LOVED Avoiding Commitment SO MUCH!  I love Ramsey and have loved him since Book 1.  AR continues where AC ended.  I immediately want to know who the Mystery Man is and for the life of me I cant even try to guess who he could be?  I am so grateful that Lexi has seemed to move on from Jack but it frustrates me beyond belief that she is not with Ramsey either!  We finally find out what Ramsey's secret is and Lexi is betrayed again by someone she has deep feelings for.
But despite this, I cant help but still root for this couple.  Whereas Jack will continue to lie and cheat, Ramsey tries to make things better because for once Lexi is #1 to someone.
This was another roller coaster ride for me because of all of the back and forth emotional drama.  But K.A. Linde has created such dynamic, loveable characters that we want to continue this journey with them.
Will Jack marry Bekah?  Will he try to win Lexi back?  Who will have their happily ever after?  Who the heck is this Mystery Man?  You will have to read it to find out because I cant tell you!  All I can say is that it is definitely worth the crazy ride!  I loved it!  Cant wait until #3!  Great job – this is one of my favorites!
About the Author
K.A. Linde is an independent author and publisher who enjoys writing novels that keep you guessing to the very end. She wrote Avoiding Commitment in 2009. She studied political science and philosophy at the University of Georgia and received her Masters in 2012. She currently resides in North Carolina. She enjoys dancing in her spare time. She has written a sequel to this novel and plans to have it released as an ebook in the near future along with her future endeavors. She is currently working on a fantasy/romance titled The Affiliate and the 3rd book in the Avoiding Series.
Twitter @AuthorKALinde
Website http://www.kalinde.com