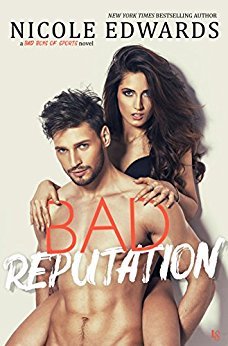 Bad Reputation

by Nicole Edwards
on October 3, 2017
Pages: 276
Buy on Amazon, Buy on B&N, Buy on iTunes, Buy on Kobo
Goodreads

Meet the most wanted players in sports . . . one ridiculously hot alpha male at a time.

Chase: With a nickname like "Sin," it's no wonder they call me the bad boy of hockey. Opponents curse me. Fans scream my name—in the arena and in other, much more private places. Penalties or not, I'm not afraid to dish out a little pain. But pleasure? That's my weakness. And no one knows it better than my best friend, Cassie Desrosiers. I'd have to be blind not to notice her rocking body and teasing grin. So when she invites me along on a trip to Vegas, my curiosity isn't the only thing that's aroused.

Cassie: Chase Barrett is a world-class A-hole. As his best friend, I'm allowed to call him on his BS. Who else is going to do it? Certainly not the puck bunnies swooning at every flex of his biceps. Everyone knows that Chase is the love-'em-and-leave-'em type. There's no such thing as commitment for the king of casual hookups. So why should I care? Maybe because all work and no play makes me a sexually frustrated girl. It's time to put the hockey stud at my beck and call to good use . . . but after a week in Vegas with Chase, I might never want to go back to the real world.
Bad Reputation by Nicole Edwards was an enjoyable friends to lovers romance.
Chase Barrett known as Sin to his fans, the media, and his friends is a professional hockey player who has had his best friend Cassie Desrosiers by his side for years.
The easy banter Sin and Cassie has was epic and kept me engaged in this read. They both accept each other as is and know each others flaws.
The backstory for Chase—how he grew up was so well done! I think it helps give perspective as to why Chase is so comfortable in his own skin, why he is an open book. Oh speaking of open book, I love the opening to each chapter in this one.  It was a good set up for the chapter you were about to dive into.
Those around Chase adore Cassie—they see the bond and when Chase finally gives in and asks them for counsel, my heart swelled.
Don't let the title of the book fool you,.Chase is a character you will love!  He is a great friend to Cassie and in the end everything she could want in a forever love!
I was confident as I read this one that what Chase and Cassie were feeling for each other was real!  The foundation of their deep friendship, their easy comfort with each other all built to a love that was there from the start. Layering their friendship with a deep sexual attraction they give into makes for a forever love the reader can be confident of.
I adore the last few chapters of this book! If you enjoy friends to lovers stories make sure to read Bad Reputation.