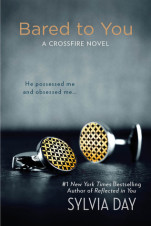 5 STARS!!!
Summary
THE NEW YORK TIMES BESTSELLER

Gideon Cross came into my life like lightning in the darkness…
He was beautiful and brilliant, jagged and white-hot. I was drawn to him as I'd never been to anything or anyone in my life. I craved his touch like a drug, even knowing it would weaken me. I was flawed and damaged, and he opened those cracks in me so easily…
Gideon knew. He had demons of his own. And we would become the mirrors that reflected each other's most private wounds…and desires.The bonds of his love transformed me, even as i prayed that the torment of our pasts didn't tear us apart…
Christine's  Review
I read this book after Fifty Shades of Grey and WOW!  It was 100x better!  I have always been a fan of Sylvia Day's paranormal books and was excited to pick up this new book of hers.  I was able to relate more to the heroine in this book as Eva is an independent, strong woman.  Eva comes from money but chooses to make a name for herself rather than relying on her family connections to get a job so she takes a job as an assistant in an advertising agency.  Eva bumps into Gideon on day 1 of her new job and literally sparks fly at their instant connection and chemistry.  It's sizzling!  What started as a physical relationship turns into something deeper as you continue through the book.  Both characters have obvious flaws and insecurities.  And like any ordinary couple, they make mistakes that hurt each other.  What makes it a great story is that they try to learn from these mistakes and build their relationship.  They don't want to fail and give up.  They need each other and that is what love is all about.  Never giving up.  Their relationship and the sex between them was SO steamy and real that I felt that I was experiencing it with them!  I rooted for this couple because I wanted them to find their happily ever after.
There are many people who compare this book with Fifty Shades and say how similar they are but I think that is so far from the truth.  Both characters in this book are emotionally scarred.  And what we see throughout this book is them leaning on each other and finding strength in each other to overcome their past.  It is intense, realistic and at times frustrating but I COULD NOT put it down!  That's how addicting it was!
I think Sylvia Day is a fabulous author – I CAN NOT wait until the next books in this trilogy!  What would make it even more interesting is if we could hear it from Gideon's POV.  I would LOVE to see what that man is thinking!
About the Author
Sylvia Day (aka S. J. Day and Livia Dare) is the #1 New York Times and #1 international bestselling author of more than a dozen award-winning novels translated into over three dozen languages. She has been nominated for the Goodreads Choice Award for Best Author and her work has been honored as Amazon's Best of the Year in Romance. She has won the RT Book Reviews Reviewers' Choice Award and been nominated for Romance Writers of America's prestigious RITA® award twice.
Twitter SylDay
Website http://www.sylviaday.com
Facebook https://www.facebook.com/AuthorSylviaDay?ref=ts&fref=ts