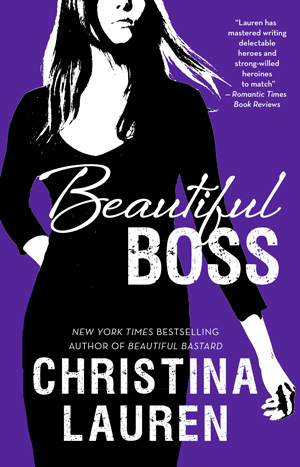 Beautiful Boss

by Christina Lauren
on February 29, 2016
Buy on Amazon
Goodreads


The ninth work in the New York Times and #1 internationally bestselling series that started with Beautiful Bastard. In this e-novella, Will Sumner and Hanna Bergstrom (from Beautiful Player) find that a wedding and everlasting love were just the beginning.

One Player tamed. One nerd girl satisfied. And one more major life decision to make. When Will fell for Hanna, her quirky sense of humor and fierce dedication to her career were part of the attraction. (Not to mention her coy newbie attitude toward sex and her willingness to let him teach her everything.) But when the job offers start rolling in for her—and oh, they do—Hanna has trouble deciding what she wants, where they should live, and how much she should burden Will with the decision. Magic between the sheets is only one part of a relationship...getting on the same page is quite another altogether.
Will and Hanna have always been my fave couple in this series, so I was so excited to get a follow up novella to their story.
Will and Hanna are embarking on the next phase of their journey including wedding bells and work life balance. To see the once player and the quirky girl so in love and in tune with each other was so much fun to experience because readers can feel their happiness and their complete love for one another.
Marriage isn't easy as we all know – it takes respect, understanding, trust, friendship and faith to make it work. In Beautiful Boss, Will and Hanna will have to master these things as a newly married couple and learn to compromise and communicate to really make their marriage last.
I always enjoy visiting with this cast of characters and their hilarious antics always make me smile…it's like visiting with family. Will and Hanna continue to have that hot connection that made me fall in love with them and this novella shows us why they are so meant for each other.
This is a series that I never want to end and I hope that Christina Lauren gives us more about these unforgettable characters.
♥READ THE SERIES♥
Book 1 – Beautiful Bastard
Book 1.5 – Beautiful Bitch
Book 2 – Beautiful Stranger
Book 2.5 – Beautiful Bombshell
Book 3 – Beautiful Player
Book 3.5 – Beautiful Beginning
Book 3.6 – Beautiful Beloved
Book 4 – Beautiful Secret
Book 4.5 – Beautiful Boss