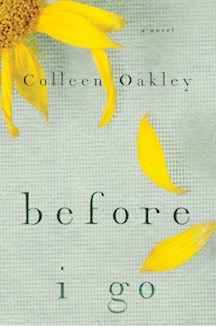 Before I Go

by Colleen Oakley
on January 6, 2015
Pages: 320
Buy on Amazon
Goodreads


A heart-wrenching debut novel in the bestselling tradition of P.S. I Love You about a young woman with breast cancer who undertakes a mission to find a new wife for her husband before she passes away.

Twenty-seven-year-old Daisy already beat breast cancer three years ago. How can this be happening to her again?

On the eve of what was supposed to be a triumphant "Cancerversary" with her husband Jack to celebrate three years of being cancer-free, Daisy suffers a devastating blow: her doctor tells her that the cancer is back, but this time it's an aggressive stage four diagnosis. She may have as few as four months left to live. Death is a frightening prospect—but not because she's afraid for herself. She's terrified of what will happen to her brilliant but otherwise charmingly helpless husband when she's no longer there to take care of him. It's this fear that keeps her up at night, until she stumbles on the solution: she has to find him another wife.

With a singular determination, Daisy scouts local parks and coffee shops and online dating sites looking for Jack's perfect match. But the further she gets on her quest, the more she questions the sanity of her plan. As the thought of her husband with another woman becomes all too real, Daisy's forced to decide what's more important in the short amount of time she has left: her husband's happiness—or her own?
I was deeply moved by Before I Go – Colleen Oakley's debut novel about a woman's journey from finding out her cancer is back to the heartbreaking realization that she will leave her husband behind after her death. This journey is one that will stay with me for a long time to come and Ms. Oakley has become an author I will be on the lookout for.
Being married, I don't think anyone wants to ever think about their spouse dying from sickness. It's tough to imagine a life without your significant other and being left alone in this world to continue on without them. Many times throughout my read, I was an emotional mess because I was devastated just thinking about it; wondering how someone can go on because in all honesty, I don't know how I could.
Daisy and her husband Jack are complete opposites. While she is orderly and efficient, he is forgetful and messy. Yet opposites attract as they say and Daisy and Jack just work – they make sense.
After years of being cancer free, at 27 years old, the cancer is back and even worse than before. Knowing that treatments won't work, Daisy makes a list of things she can concentrate on other than her illness to get her through daily life – mainly to fix their house and to find Jack his next wife.
This book was such an emotional, gut wrenching read for me. Not only because, we the reader gets to experience Daisy's decline in health but also because I felt sad that Daisy put so much thought and emphasis on concentrating on the house or the next wife when she should have really focused on her husband and enjoying every single moment with him. That rather than pushing him away, she should have embraced every moment; created new memories with Jack that he would remember always. That's what I would have wanted to do. The separation between them broke my heart over and over and I just prayed that they would be able to overcome this divide and be able to find each other again to enjoy every second before it was too late.
I turned away from him when I should have turned towards him. I spent the last three months looking for a wife for him, telling myself I was doing it because I loved him, because I didn't want to leave him alone. But all I was doing was leaving him alone.
Deeply emotional, heartbreaking and poignant…I devoured Before I Go. Have tissues readily available as I cried and reflected and realized the importance of living every moment with no regrets, loving passionately and taking the time to truly enjoy life with the ones you love <3